121 PACE projects completed by Ygrene in Alachua and Levy counties
(Gainesville, Fla.) – Ygrene Energy Fund, Florida's leading provider of Property Assessed Clean Energy (PACE) financing, today highlighted the success of PACE programs in the greater Gainesville area. Since 2016, 121 PACE projects have been completed in eight communities in Alachua and Levy counties. To date, these projects have helped create nearly 50 new jobs in the Gainesville area and are projected to produce more than $1.3 million in hazard loss savings for homeowners who have made hardening and resiliency improvements with PACE.
"With PACE partnerships in more than 170 Florida communities, Ygrene is working with families in nearly every part of Florida, and we are proud to have completed more than 121 projects in the Gainesville area since 2016," said Mike Lemyre, Ygrene Senior Vice President of Government Affairs. "PACE is continuing to grow and with more than 46 hurricane resiliency improvements installed to harden and prepare homes, and over 100 energy efficient and renewable energy improvements installed, it is clear that like their neighbors in Central and South Florida, families in Alachua and Levy counties have seen great value in PACE as they work to create stronger, and more energy conscious communities."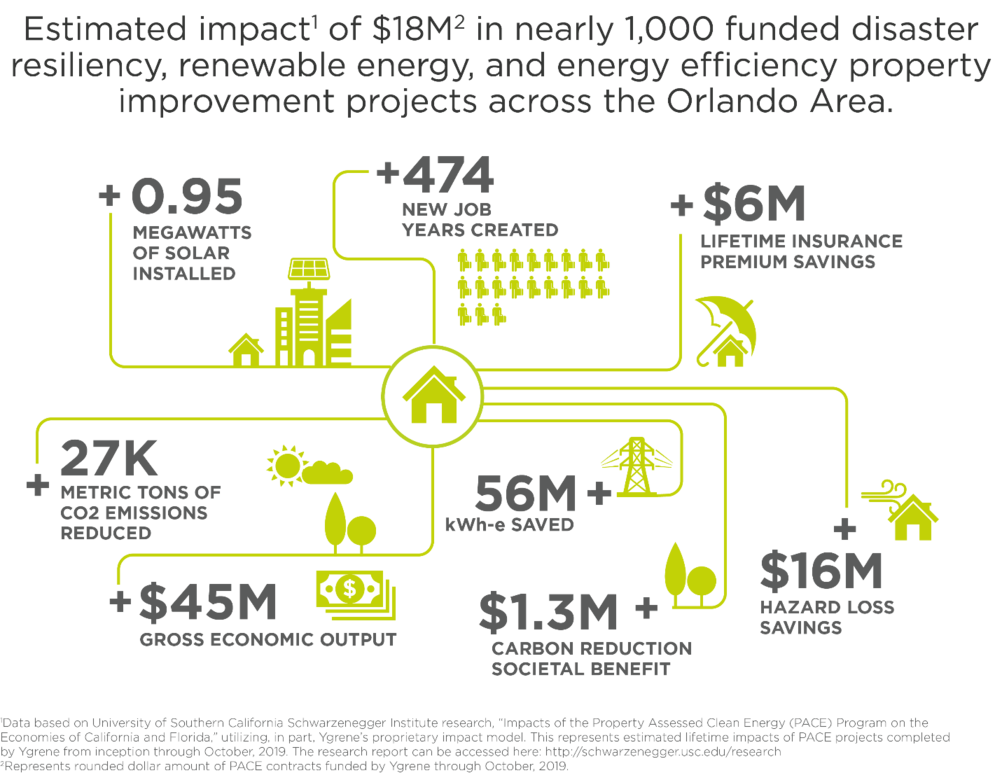 Ygrene is the only PACE financing provider to have earned designation as a Clean PACE Certified Partner and employs the industry's strongest consumer protections in its work to expand access to clean and renewable energy in Florida.
About Ygrene
Ygrene's award-winning PACE program, with built-in consumer protections, is delivering greater choice for home and business owners by providing accessible and affordable financing for energy efficiency, resiliency, renewables, water conservation, storm protection and seismic upgrades. Recognized as one of the fastest growing asset classes in the country, PACE has proven to be a successful tool for supporting public policy initiatives, all without the use of public tax dollars or credits. By providing over $1.7 billion of private capital to more than 550 local communities, Ygrene has created tens of thousands of jobs and invested millions into local economies across the U.S. Learn more at ygrene.com.