Nearly 1,000 disaster resiliency and clean and renewable energy projects completed with Ygrene in Orlando area
(Orlando, Fla.) – Ygrene Energy Fund, Florida's leading provider of Property Assessed Clean Energy (PACE) financing, today highlighted the continued growth of PACE programs in the Orlando area. Nearly 1,000 clean energy and hurricane resiliency home improvement projects have been completed using Ygrene financing in Brevard, Marion, Orange, Osceola, Seminole, and Volusia counties. To date, these projects have helped create nearly 500 new jobs in the Orlando area and saved enough electricity to power more than 5,100 homes for a year, according to average annual electricity consumption data from the U.S. Energy Information Administration.
"The Orlando area is well-known for its efforts to embrace and enact policies that enhance access to clean and renewable energy, and the growth of PACE is a prime example of this region's continued leadership," said Mike Lemyre, Ygrene Senior Vice President of Government Affairs. "With nearly 1,000 families choosing to invest in a stronger and less energy dependent future for their home and community, and more families seeking to improve their homes every day, PACE is proving to be a vitally important public policy in the Orlando area and beyond."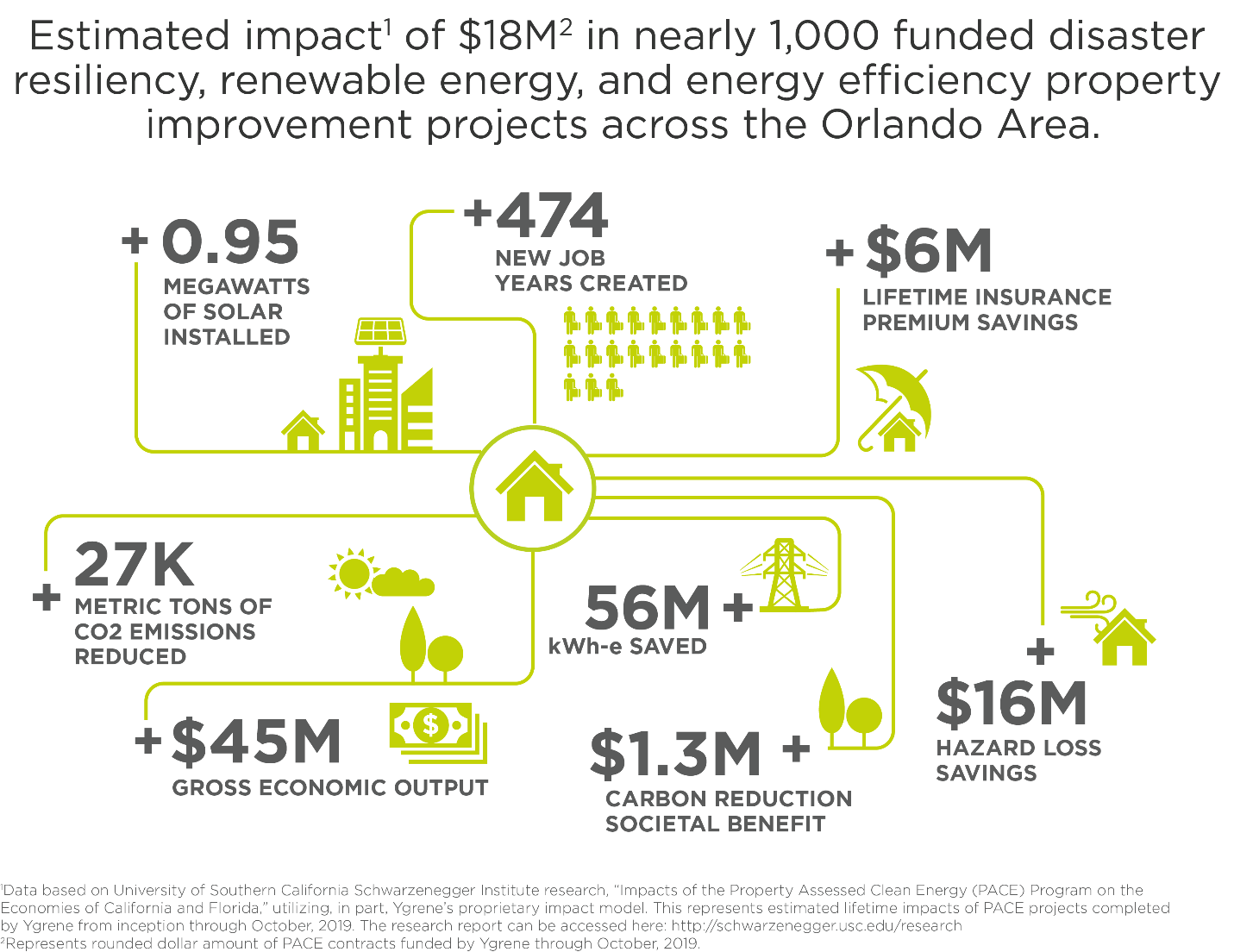 Ygrene is the only PACE financing provider to have earned designation as a Clean PACE Certified Partner and employs the industry's strongest consumer protections in its work to expand access to clean and renewable energy in Florida.
About Ygrene
Ygrene's award-winning PACE program, with built-in consumer protections, is delivering greater choice for home and business owners by providing accessible and affordable financing for energy efficiency, resiliency, renewables, water conservation, storm protection and seismic upgrades. Recognized as one of the fastest growing asset classes in the country, PACE has proven to be a successful tool for supporting public policy initiatives, all without the use of public tax dollars or credits. By providing over $1.7 billion of private capital to more than 550 local communities, Ygrene has created tens of thousands of jobs and invested millions into local economies across the U.S. Learn more at ygrene.com.