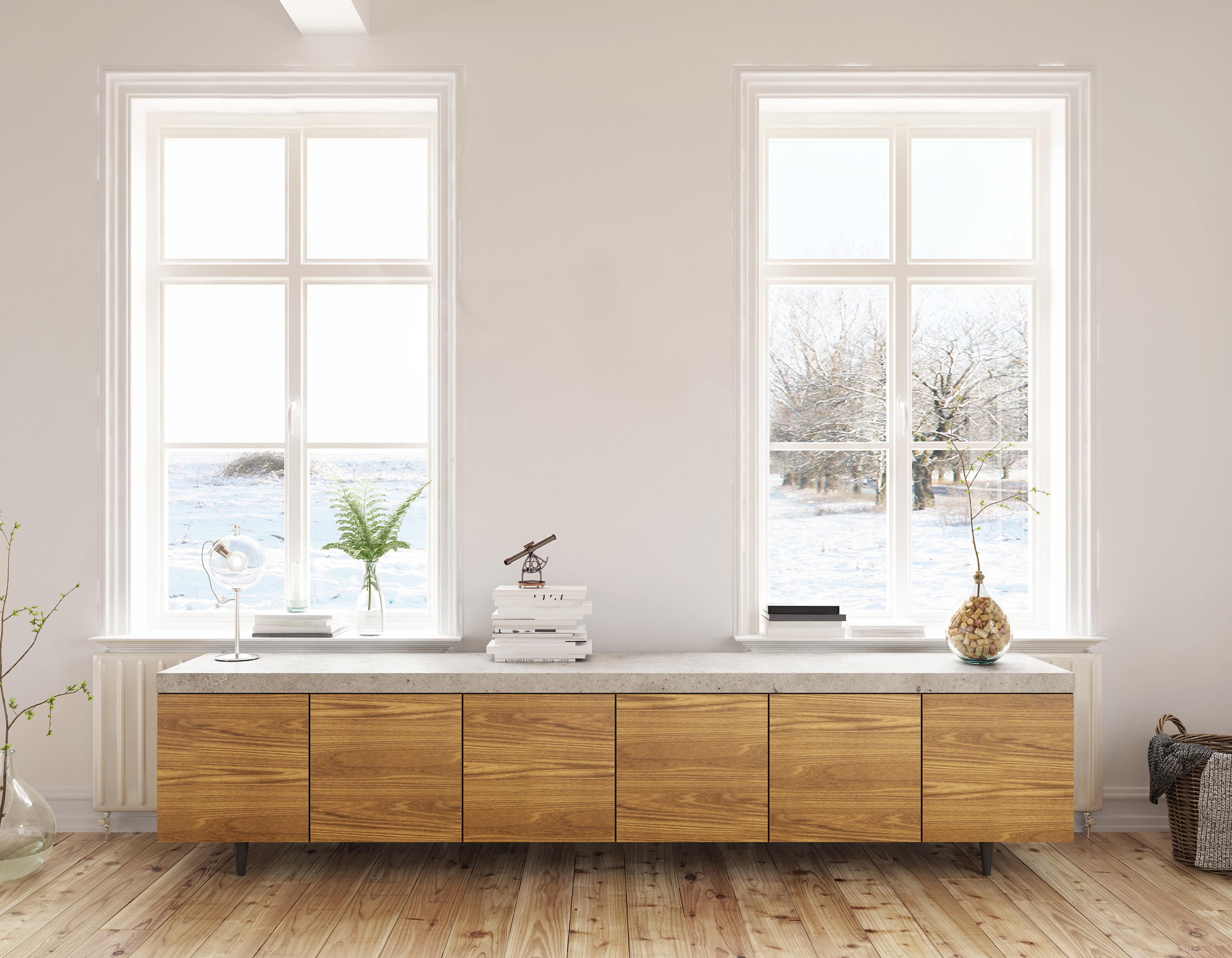 Increase the comfort, energy efficiency, and security of your home. 
Not only can they be beautiful to look at, but new, energy-efficient windows and doors may eventually pay for themselves through lower heating and cooling costs.  Because of this, you may want to consider pursuing a windows and doors improvement project for your home.
Measuring the Energy Efficiency of Windows and Doors
The energy performance ratings of windows and doors measure their potential for gaining and losing heat. The National Fenestration Rating Council (NFRC) tests, certifies, and labels windows and doors based on their energy performance ratings. The NFRC label provides a reliable way to determine a window's energy properties and to compare products. The NFRC label can be found on all ENERGY STAR® qualified window and door products.
U-factor is the rate at which a window or door conducts non-solar heat flow. NFRC U-factor ratings represent the entire window performance, including frame and spacer material. The lower the U-factor, the more energy-efficient the window or door.
Another measurement, solar heat gain coefficient (SHGC) is the fraction of solar radiation admitted through a window or door and subsequently released as heat inside a home. The lower the SHGC, the less solar heat it transmits and the greater its shading ability. A product with a high SHGC rating is more effective at collecting solar heat during the winter. A product with a low SHGC rating is more effective at reducing cooling loads during the summer by blocking heat gain from the sun. Your home's climate, orientation, and external shading will determine the optimal SHGC for a particular window or door.
Types of Energy Efficient Windows
Windows come in a number of different frame and glazing types. By combining an energy-efficient frame choice with a glazing type tailored to your climate and application, you can customize each of your home's windows. Frames can be constructed from many materials, including wood, composite, vinyl, fiberglass or metal. Window glazing or glass can be tinted, multi-paned, insulated or coated.
Windows and doors can gain and lose heat through direct conduction through the glass or glazing, frame, and/or door. They can also gain or lose heat from air leakage through and around windows and doors. Sealing or preventing leaks in the first place is one of the best ways to minimize energy costs.
Permits
Many jurisdictions require building permits for the replacement of windows and doors. Consult your local building department regarding the requirements in your area.
Timing
Windows and doors must be fitted to many different size openings. To achieve the proper fit, many windows and doors must be custom fit and built to order. As a result, the process of measuring, ordering and installing windows may take longer than it takes for some other home improvements. Be sure to ask your contractor for a realistic estimate of how long it will take to complete the job.
Retrofit or Replace?
In some situations, it may be more cost-effective to replace old glass and other components with new, energy-efficient parts within an existing frame. Consult your contractor about the best way to achieve your cost and energy-efficiency goals.
Choosing the Right Window and Door Contractor
All Ygrene authorized independent window and door contractors are licensed, insured, pre-screened, and have been in the window and door installation business for at least a year or more. They know the difference between energy-efficient and standard windows and doors. Quality window and door installers also offer workmanship and materials warranties. Be sure to ask your contractor to clarify what is covered by workmanship and materials warranties and what is not.
Paying for Your New Energy Efficient Windows and Doors
Ygrene's PACE financing offers many advantages:
100% Financing, No Money Down

No Payments For Up To 12+ Months

Based On Home Equity

Repaid With Your Property Taxes

No Minimum FICO Required

Approval In 30 Minutes Or Less