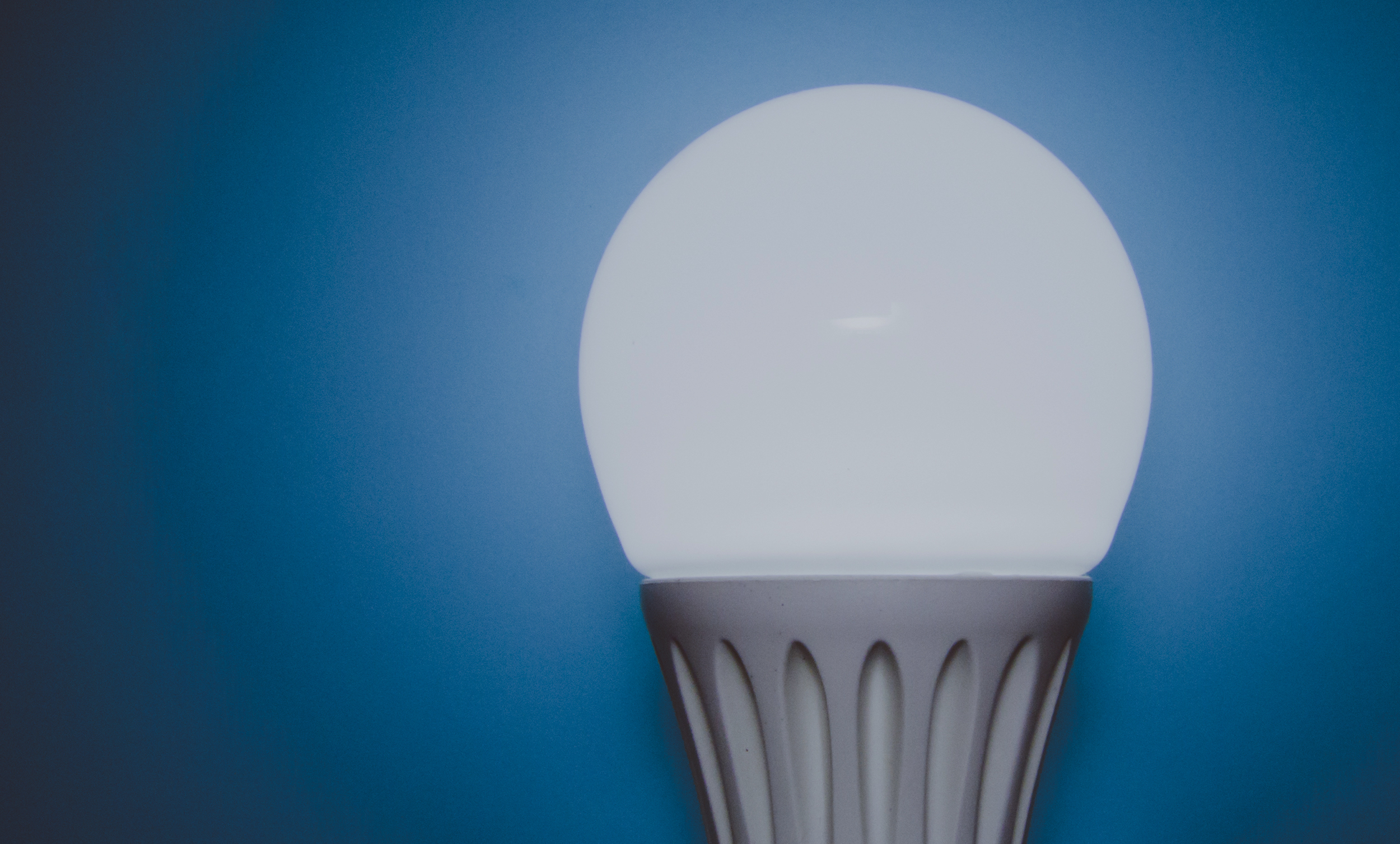 New lighting can make your home more comfortable, attractive, and energy efficient.
An average household dedicates about 5% of its energy budget to lighting. Changing out or retrofitting existing lighting fixtures from incandescent to efficient LED lighting is one of the fastest ways to cut your energy bill.
What's more, you can pay for energy efficient lighting upgrades with PACE financing. With up to 100% financing and no money down, a LED lighting upgrade for your home has never been easier.
LED (light-emitting diode) Bulbs
LEDs are a type of solid-state lighting-semiconductors that convert electricity into light. LEDs use only 20%-25% of the energy and last up to 25 times longer than the traditional incandescent bulbs they replace. LEDs use 25% - 30% of the energy and last 8 to 25 times longer than halogen incandescents. While LEDs are more expensive, they still save money in the long term because they last longer than traditional incandescent bulbs and use very little energy.
Retrofit or Replace?
In some situations, it may be cost-effective to retrofit existing light fixtures with add-on LED fixtures. Consult your lighting contractor about the best way to achieve your cost and energy-efficiency goals.
Dimmers, Controllers and Sensors
Some LED bulbs can be used with dimmers. LED bulbs and fixtures must be designed for dimming, and you may need to replace existing dimmer switches with ones that are compatible with an LED lighting product. Motion sensors automatically turn outdoor lights on when they detect motion and turn them off a short while later. Because utility lights and some security lights are needed only when it is dark and people are present, the best way to control light might be a combination of a motion sensor and photo sensor, which turns on when it gets dark or gets light. Occupancy sensors detect indoor activity within a certain area. They provide convenience by turning lights on automatically when someone enters a room, and save energy by turning lights off soon after the last occupant has left the room.
Timer Controls
Timers can be used to turn on and off outdoor and indoor lights at specific times. Programmable digital timers can be used effectively in combinations with other controls. For example, one effective combination might be a photo sensor that automatically turns lights on in the evening and a timer that turns the lights off at a certain hour of the night. For indoor lighting, timers can be useful to give an unoccupied house a lived-in look.
Choosing the Right Lighting Contractor
All Ygrene approved lighting contractors are licensed, insured, pre-screened, and have been in the lighting business for at least a year or more. Quality installers may also offer workmanship and materials warranties. Be sure to ask your contractor to clarify what is covered by workmanship and materials warranties.
Paying for Your New Energy Efficient Lighting
Ygrene's PACE financing offers many advantages:
•  100% Financing, No Money Down
•  No Payments For Up To 12+ Months
•  Based On Home Equity
•  Repaid With Your Property Taxes
•  No Minimum FICO Required
•  Approval In 30 Minutes Or Less