35 Things You Need for a New House
By
Ygrene
on September 8, 2021
You've finally done it—you signed your name on the dotted line and the house you've been dreaming about is finally yours. With all of the humdrum of tedious paperwork behind you, it's time to look forward to the big move. 
Ironically enough, the next step in the home-buying process is buying more. 
If you're a first-time homebuyer, you will quickly find out just how many things you need for a new house the moment you step into your barren abode. If you're still in the process of saving up for your first home, it's important to factor in all of the inevitable day-to-day essentials you'll need. 
From kitchen appliances to cleaning supplies, there are a number of necessities that should decorate your new homeowner checklist. To ensure you don't forget anything, we're here to walk you through everything you'll need to make your new house feel like a home.
New Homeowner Checklist
Moving into a new house can be incredibly overwhelming—after all, you're working with a completely blank canvas of space. Rather than letting the endless possibilities stress you out, turn your focus to manageable tasks that can be taken in stride. Using this checklist, we'll walk you through all of the household essentials you need. You'll be able to gain the sense of control that both your mind and schedule need while making productive progress on your lengthy list of things to do.
General Household Items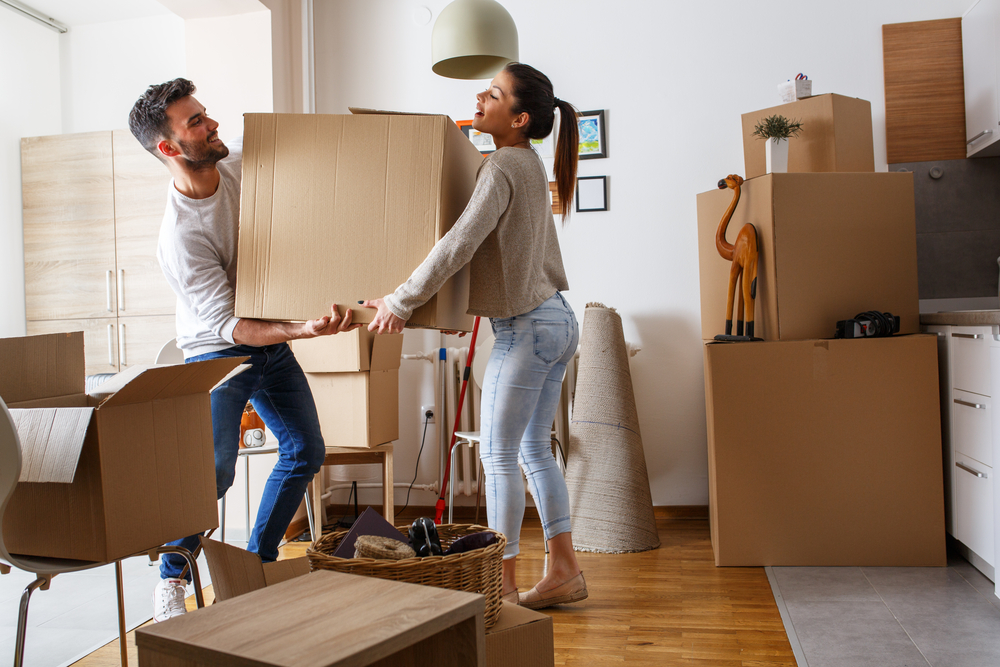 Though no two houses are the same in the interior, there are several universal essentials every house should have. These general household items will best ensure your home is safe and fundamentally functional. Having these essentials can also make your move a lot easier, so we recommended stocking up on the following items:
New locks – New house? New locks. You have no idea if the real estate agent or previous owner still has a copy lying around somewhere, and if you're like most people, you'd rather protect yourself and your belongings than leaving them to a stranger's good graces. Replacing your door locks should be your first to-do.
Box cutter
Basic tools – Between building furniture and completing little DIY fixes around the house, having a toolkit handy will make it easy to tackle whatever needs tackling.

Screwdrivers (Phillips and flathead)
Hammer
Assorted screws and nails
Pliers
Wrenches (plumber's and basin)
Tape measure

Light bulbs – In the event your house doesn't come pre-furnished with light bulbs, you'll need a few energy-efficient bulbs to illuminate your living spaces.
First aid kit – Accidents happen when moving, and it pays to be prepared for any untimely injuries. Be sure your first-aid kit contains the following: 

Antiseptic wipes 
Bandages
Gauze dressings
Antibiotic ointment 
Cotton swabs
Tweezers
Scissors
Safety pins
Disposable sterile gloves

Security system - Gain the peace of mind you deserve after making likely the biggest purchase of your life by outfitting your house with a smart security system. No matter what kind of budget you're working with, there are a number of options out there that can keep you and your home protected. 
Extension Cords
Surge Protectors
Batteries - Check to see if your smoke and carbon monoxide detectors are stocked with brand new batteries
Trash bags - Be sure to account for different size trash cans—your bathroom or bedroom trash cans likely won't be the same size as your kitchen receptacle. 
Flashlights 
Curtains, shades, or shutters - If you live somewhere prone to hazardous hurricane seasons or even strong storms, you may consider installing hurricane shutters to protect your home from stormy blows.
Things to Buy for a New House: Room by Room
Breaking down your to-buy list by room can make a world of difference when it comes to optimizing your move-in schedule. Let's go over the basic things you need for your kitchen, bathroom, bedroom, and living room.
Kitchen
Toaster oven - A compact toaster oven wastes less energy than a traditional full-sized oven while achieving the same results. 
Microwave - If possible, opt for an energy-efficient model as energy-efficient appliances can help reduce your annual utility costs.
Cookware - Dialing into your kitchen cookware needs tends to get more personalized based on your skill level and expected use, but there are a few practical musts every kitchen should have:

Utensils (spatulas, knives, tongs, measuring cups, strainer, can opener, etc.)
Pots and pans
Cutting board
Tupperware

Dinnerware

Silverware 
Plates
Bowls
Cups and glasses

Mop and broom
Cleaning products - Odds are pretty likely that the kitchen will be subject to the majority of your house's mess. It's important to keep your kitchen clean and tidy to avoid any pest invasions. Having a strong assembly of cleaning products will ensure you're able to maintain pristine cleanliness every day. Stock up on the following:

All-purpose cleaner
Scrubbing sponges
Dishwashing soap
Baking soda
Bathroom
Toiletries - Unless you plan on bringing all of your old toiletries along with you, you'll need to stock up on all of your personal hygiene essentials. The moving phase can feel a lot like limbo, but it's important to maintain your regular self-care routine so you're ready to face each new day. You won't need a fully stocked cabinet, just the essentials, including:

Toothbrush and toothpaste
Shampoo and conditioner
Body wash or soap
Lotion
Hand soap

Shower curtain, hooks, and liner
Towels
Cleaning products - The bathroom can quickly become a hotspot for stink and disarray without some regular TLC. In order to keep your bathroom feeling like your own in-house spa, you'll need to create a cleaning routine and have a selection of effective products at the ready. Furnish your bathroom cabinets with the following items:

Tile cleaner
Glass cleaner
Disinfectant spray
Scrub brush
Sponges

Toilet paper
Plunger and toilet brush
Bath mats
Bedroom
Mattress - It pays to choose wisely when picking out your mattress as you'll likely spend years going home to it. Make necessary measurements to figure out what bed size and mattress type will best accommodate your needs and available bedroom space.
Bed frame
Pillows
Sheet and comforter sets
Hangers
Organizers - If you have a lot of clothing and footwear to unpack, organizing everything in an orderly manner may prove to be one of your more frustrating challenges. Having a few organizers, whether it's racks or shelving units, can make it easier to find a home for all of your tops, bottoms, and shoes.
Living room
Entertainment system - Where possible, opt for ENERGY STAR certified electronics to ensure your home is as eco-friendly as it can be!
Wi-Fi router and modem
Vacuum - Whether your home is carpeted, outfitted with hardwood flooring, or a blend of both, a vacuum is a must-have maintenance essential that makes clean-up painless.
Couch - Every good living room features a comfortable sofa, and after those long days of moving, unpacking, and assembling, you deserve some relaxing downtime.
The Finishing Touch
Last, but certainly not least on this new homeowner checklist, is a welcome mat for your front door. Buying and moving into a new home is a big deal. Though the process may be long and painstaking, the payoff is worth every bead of sweat and every penny spent. Once everything is perfectly situated and your house exudes that homey feel, a unique welcome mat is all that stands between you and the end of your list of things you need for a new house.
PACE Financing Can Help Ease the Burden
Moving into a new house should be an exciting experience. Even with plenty on your plate, taking it step by step will keep your sanity intact and set your move-in process up for success. If this list feels financially overwhelming, Ygrene's PACE financing can help. With Ygrene, homeowners can use the equity in their homes to finance energy-saving upgrades such as high-efficiency lighting, air, and duct sealing, retractable awnings, skylights, and more. You'll be able to improve your new home today and pay for the upgrades over time, as part of your property tax bill. Find out if your improvement qualifies for Ygrene's PACE financing.