Sunroom Additions: 10 Benefits to Adding a Sunroom Home Extension
By
Ygrene
on June 7, 2022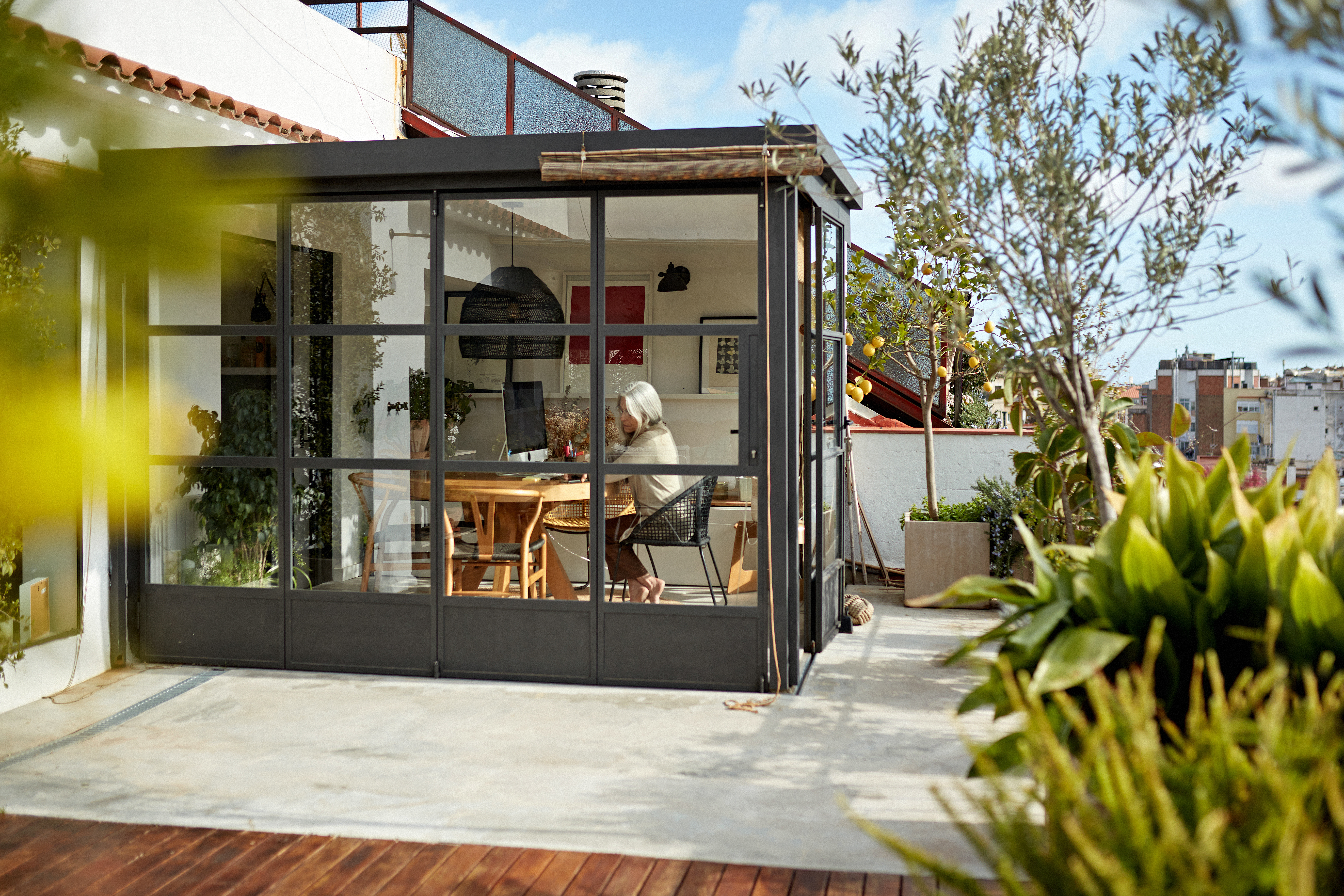 Picture this: It's a bright, beautiful morning, the birds are chirping, a breeze is blowing, and you're able to take it all in from the comfort of your own home. As you sit back and relax on a cozy lounge chair, you can peacefully prepare for your day, every day, inside of your sunroom. 
If this vision sounds like heaven on earth, it may finally be time to pursue your dreams of a sunroom addition. Characterized by plentiful sunlight, cushy patio furniture, and a charming balance of the indoors and outdoors, a sunroom extension serves as the ultimate in-home getaway space. This radiant transitional space allows you to absorb the beauty of the natural world while staying protected from the elements.
What is a Sunroom?
A sunroom, also commonly referred to as a solarium, patio room, conservatory, or Florida room, is a glassed-in living space that is traditionally attached to a house and accessible from indoors. Sunrooms are best defined by their openness which allows natural light to pour in while protecting the home from the elements of nature.
Pro-tip: Did you know that adding a sunroom to your house may be a PACE-eligible residential improvement? If the cost of a sunroom installation is what's keeping you from pursuing your project, PACE financing for eligible home improvements makes footing the bill much more manageable.
What are the Benefits of a Sunroom Addition?
Although a sunroom addition project may be a costly endeavor, it's one that reaps enormous rewards. If you're on the fence about pursuing a sunroom home addition, check out these 10 benefits of turning that dream into a reality.
1. Boost your real estate value
It's no secret that adding a sunroom increases the square footage of your home, but did you know that by doing so, you can effectively enhance the value of your real estate? A sunroom can provide an impressive return on investment of around 50%. This means you may be able to increase the value of your home by approximately half of the total cost of the extension. So a sunroom addition that costs $10,000 could potentially add $5,000 to your resale value. 
Simply put, most home buyers on the market will have no problem dishing out extra dough for a home that comes with attractive and functional features like a sunroom. Prospective buyers will fall in love with the inviting charm of a glassed-in space that faces a lush backyard view—making it easier to sell your home whenever the time comes. 
2. Expand your living space
Whether your family is growing or your ever-expanding collection of furniture, plants, and other belongings are beginning to crowd your home, adding a sunroom to your home can provide the extra space you need to continue flourishing.
Unlike adding a new bedroom, installing a sunroom serves a larger purpose; increasing the amount of general use space in your home. As an indoor area where the entire family can gather, sunrooms provide room to bond, relax, entertain, and more.
3. Cut down on your electric bill
Regardless of whether you rent or own, paying your monthly electric bill is a simple reality of modern housing. Though there's no escaping your utilities, there are a number of ways you can save on your electric bill when you install a sunroom addition. 
With a sunroom, you can effectively carve out an entire room that is completely lit up by natural light. Without any daytime dependency on electricity to power light bulbs, you can keep lights off and revel in the glory of cost-free lighting. If you relocate usual daytime activities that require artificial light to the sunroom, you can yield the most beneficial and money-saving rewards.
4. Enjoy an abundance of health benefits
Not only is adding a sunroom to your home a great way to improve your household aesthetic, but it's also an excellent way to improve your health. With increased daily exposure to sunlight, you can positively impact both your physical and mental well-being. 
Some of the many health benefits you can enjoy include:
Vitamin D boost: The sun is the best source of Vitamin D, which is precisely why it's often referred to as the sunshine vitamin. Vitamin D assists in maintaining healthy bones, supporting the bone, immune, and nervous system.
Improved sleep quality: Exposure to natural light, especially early in the morning, can help regulate your sleeping patterns and allow you to gain deeper sleep at night.
Lower blood pressure: Studies have found that spending more time in the sunshine can lower your blood pressure.
5. Boost your mood
In addition to the many physical health benefits gained from getting your healthy dose of sunshine, there are a number of mental health benefits you can reap as well. Soaking up the sun can be fun and relaxing, and more often than not, doing so often entails some form of outdoor activity. Exposure to sunlight increases the brain's production of serotonin—a hormone typically associated with mood regulation. According to the Endocrine Society, increased levels of serotonin can help make you feel happier, more emotionally stable, and calmer. By exposing yourself to natural light every day, you can make meaningful steps toward healing and maintaining your positive mindset and boosting your mood.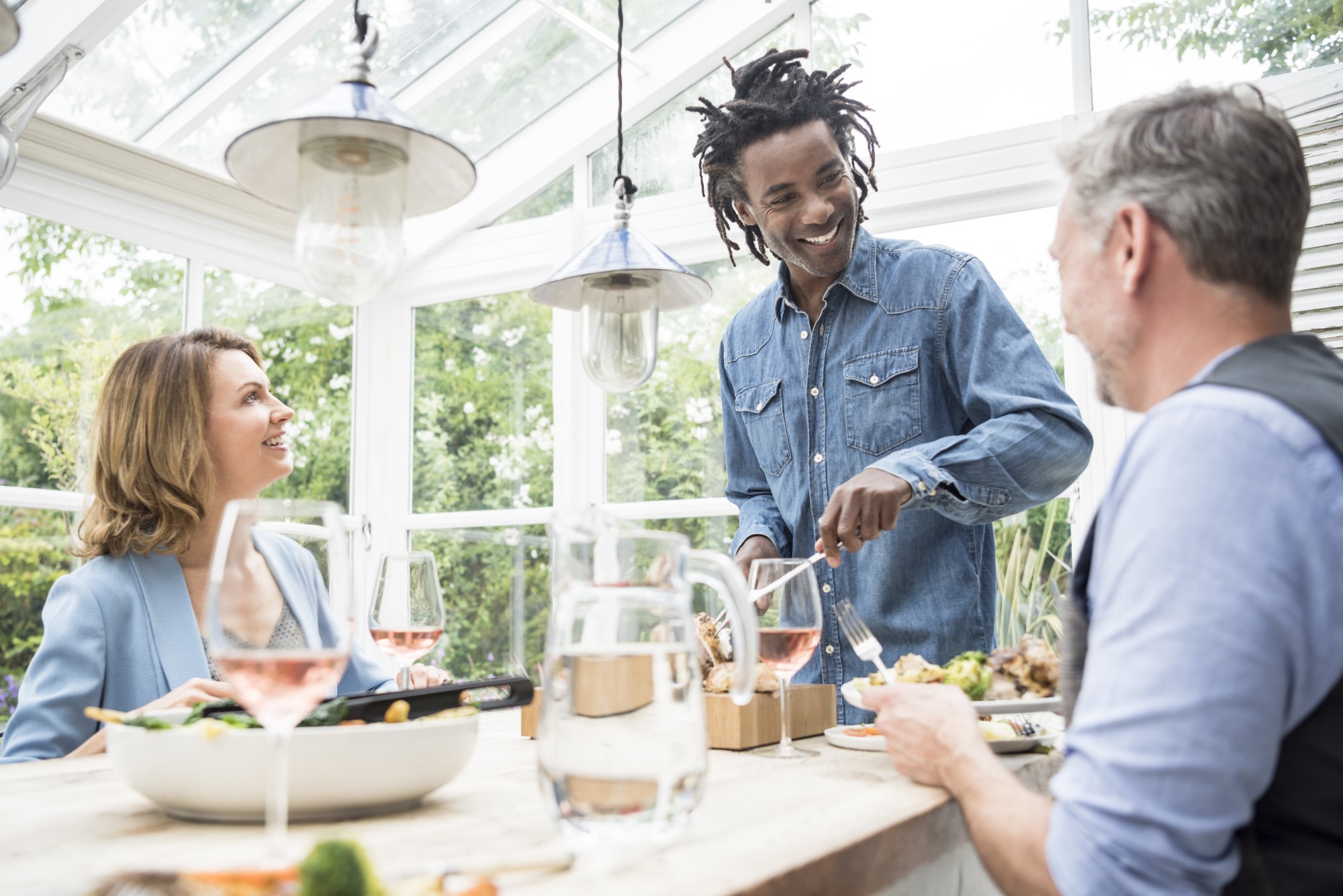 6. Customize your space
Sunroom extensions are some of the most versatile home additions out there. Whether you're looking to create a home office, a safe space for a children's playroom, or an entertaining space for parties, a cleverly customized sunroom can fit the bill.
If you enjoy reading, stretching, meditating, or any other type of tranquil activity, there are few places more peaceful where you can tap into the most harmonious version of yourself. Taking up your hobby of choice within the sprawling beauty of a sunroom can make your favorite pastime even more enjoyable. There are countless ways to customize your sunroom addition per your needs and wants.
7. Enjoy year-round
Every season brings its own beauty and a sunroom allows you to experience every breathtaking moment all year long. From sunrise to sunset, 365 days a year, you can tune into the timeless artistry of Mother Nature. Unlike a porch that's only great for the warmer months, you can enjoy the beauty of the outdoors from inside of a glassed-in sunroom during any season.
8. Maintain an indoor garden
Got a green thumb? Say goodbye to your days of waiting for the right time to plant again when you transform your sunroom extension into a private indoor garden. Revel in the low-maintenance glory of a pest-free space that can be easily climate controlled. Protect your pretty plants from the harsh elements of nature by using your sunroom as a makeshift greenhouse.
9. Increase entertainment space
If your home often doubles as a party venue for close friends and family, a sunroom provides a unique space for entertaining large parties. Whether you're looking to host warm daytime gatherings or classy nighttime dinners under the stars, there's no better place to entertain than your sunroom. Creating the perfect environment that draws guests in and exudes an air of relaxation, comfort, and togetherness if made supremely possible with a spacious sunroom.
10. Enjoy the view
If you have a nice view from your backyard but can't easily take it all in from your home, a sunroom extension can provide an easy solution to your problem. Whether you've got a freshwater pond out back or just a patch of grass where the kids can play, having a full view makes a world of difference.
Wrapping up
Why have a wall when you can have a window? Adding a sunroom to your home is an amazing way to fuse the elements of the natural world into the fabric of your existing architecture. The potential of a sunroom is virtually limitless—whether you're looking to create a sanctuary of peace and quiet, a sun-filled family room, or an in-home bird observatory, a sunroom serves as the perfect destination for all of your wants and needs.