Coconut Grove Homeowner Reflects on Sunny Savings
By
Ygrene
on May 11, 2017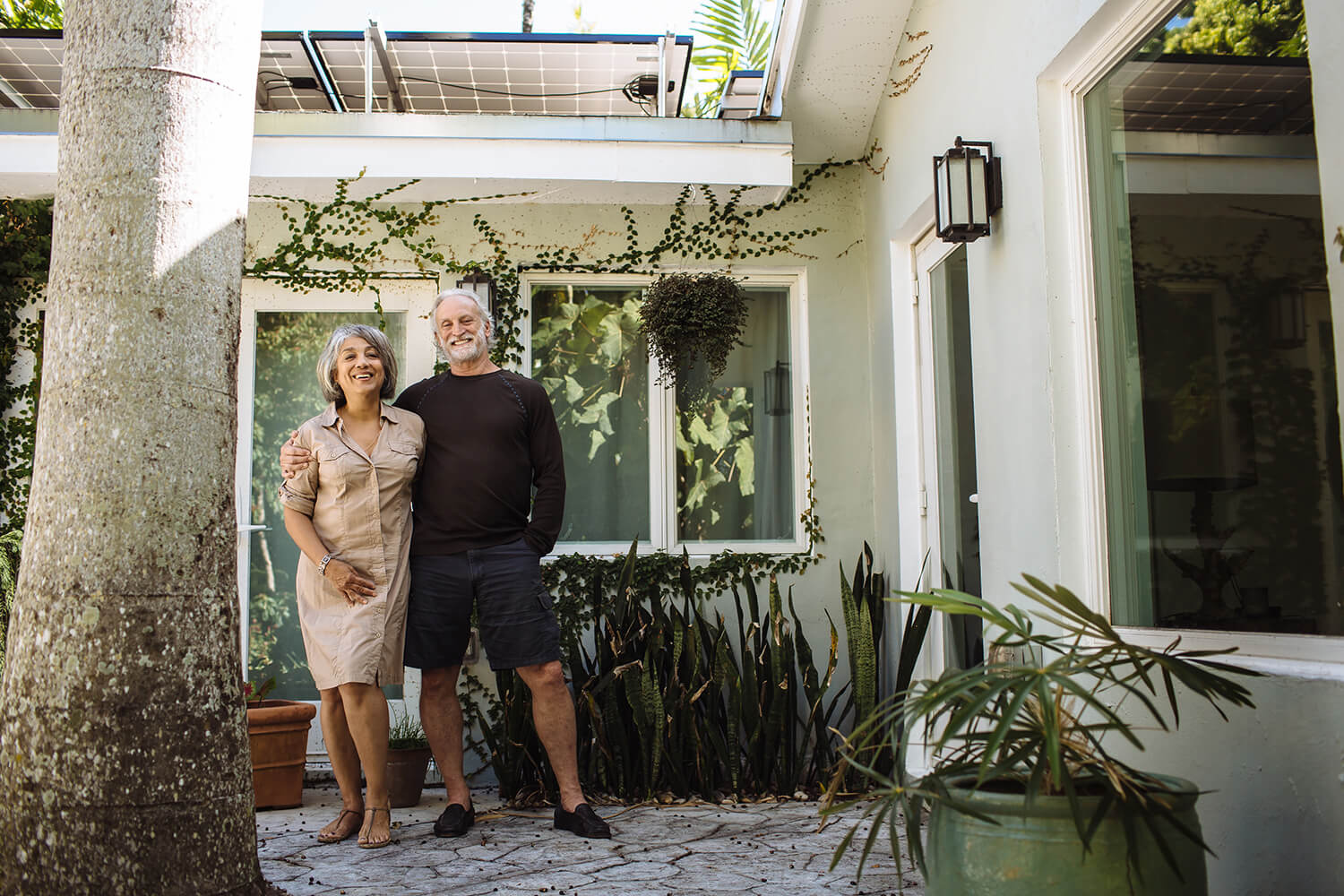 Carol López-Bethel moved to Miami's Coconut Grove neighborhood in 2012 from Washington D.C., trading her urban dwelling for a tropical three-bedroom. She bought a 1950s post-war house that had all of its original pine ceilings still in mint condition.
Motivated to maintain the elegance of her interior while reducing her energy consumption, Carol invested nearly $100,000 in energy efficiency and other home improvement measures such as reflective elements to minimize heat. Although solar panels topped Carol's wish list, she was not considering the renewable upgrade in light of her recent major investment.
Months after her home improvements were completed, Carol noticed Ygrene's sign hanging up in the company's Miami office promoting solar, energy efficiency, and other measures. For a moment, she admired that Miami was paying attention to environmental issues, but didn't think seriously about Ygrene's PACE program until she received a mailer that caught her attention. It revealed that she had access to $120,000 in home equity improvements for solar and other climate resilience upgrades – so she called Ygrene to learn more.
Increasing Solar Access Throughout Florida
Carol discovered that Ygrene's PACE program (property assessed clean energy) is an innovative option that enables homeowners to leverage the equity in their home to finance eligible upgrades. Over time, homeowners then pay for the upgrades on their annual property tax bill.
"When I spoke to Ygrene about its PACE financing program, I was sold instantly," Carol said. "Getting solar was a no-brainer, because the program didn't affect my personal credit, and being able to use my home's equity was a major boon."
Ygrene gave Carol a list of qualified contractors who offer the rooftop solar system she desired. After receiving several estimates, she chose Daren Goldin of Goldin Solar. An engineer by training who focuses his entire business on solar, Daren revealed that the greatest barrier to clean energy upgrades is the up-front cost.
By offering PACE financing – which is attached to the actual property rather than the owner – Goldin Solar can provide renewable power to more residents than ever before. "Ygrene has created an attractive and smooth platform for homeowners to access affordable capital and understand energy savings and performance," Daren said. "As a result, we have been doubling our business volume every six months by offering PACE financing."
Slashing Electricity Bills, Boosting Home Value
In less than four weeks, Carol had permits, solar on her roof, and was ready to take advantage of federal tax credits. Once the solar technology became operational, her monthly energy bill dropped from $150 to less than $50, a savings of nearly 70 percent.
One-third of Carol's roof is now dedicated to harnessing the sun's energy. Aside from the clean energy her rooftop solar array produces, the solar electric panels also keep her rooftop shaded. "I don't even think my AC will work as hard because the panels collect the heat," she revealed.
At the same time Carol's electricity bills decreased, her home value escalated. "What's amazing is that I've increased the value of my home by at least $30,000," she said. Carol has not yet written a single check. In fact, thanks to the solar investment tax credit (ITC), she even received a federal rebate for several thousand dollars.
A series of extensions has enabled the ITC to remain available for residential solar systems through 2021. Therefore, residents like Carol can continue harnessing energy savings from the Florida rays. "My husband is a writer, and we are both retired, so we look forward to having as little financial strain as possible," Carol said. "I'm so grateful for the Ygrene program and the wealth of sunshine savings."
---
Visit Ygrene and find out how you can make the sunshine work for you, like the Bethels.