12 Home DIY Improvement Projects That Can Be Done in a Weekend
By
Ygrene
on November 30, 2018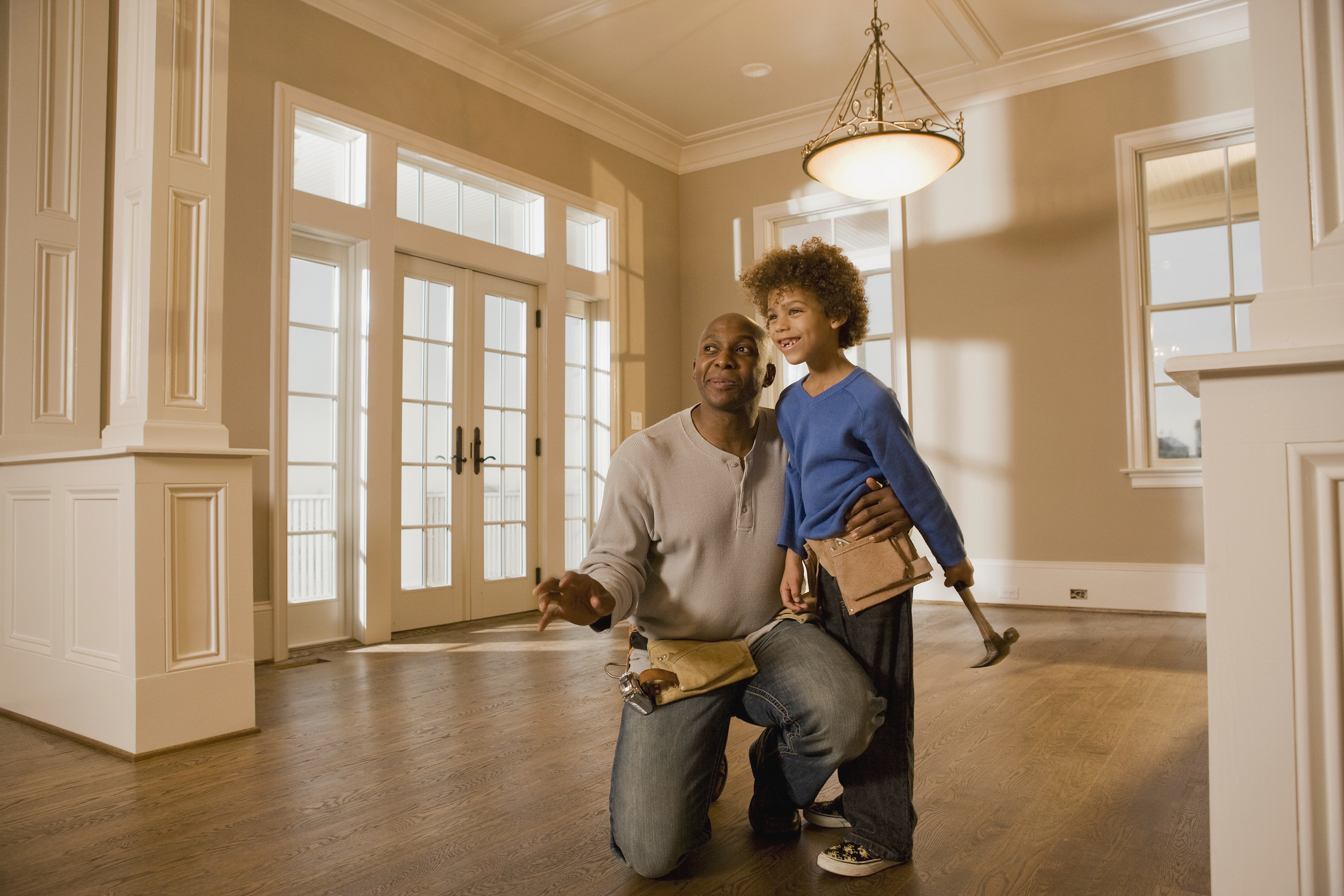 For many, DIY home improvement projects are fun and worthwhile for no other reason than the enjoyment of doing them. For some, quick home improvement projects may be necessary for more quantifiable reasons – like raising the value of your home and property or making it more energy efficient. And sometimes, it's just nice to transform a small space of your home to be more attractive or better suit your needs!
Whatever your reasons are for upgrading your home, we've got a dozen home improvement project ideas for you. Some you'll be able to do yourself. Others you may prefer to hire-out to get done. But all of these home improvement projects can be accomplished in just one weekend.
Easy Home Improvement Projects You Can DIY in Two Days or Less
Freshen up Your Entrance
How inviting is your front door? Could the porch area use a few upgrades? First impressions mean everything, whether for the benefit of you, your family or potential buyers.
Simple ideas to spruce up your entry in a weekend include adding a welcome mat, decorating with a colorful assortment of potted plants, and plugging in some outdoor lighting accents.
You could also paint your door, replace it with one that's brand new, or simply upgrade the tired, old hardware. And don't forget about the ground outside your front door. How nice would a new decorative stone patio or walkway look?
Brighten Kitchen Fixtures
Have your kitchen fixtures and lighting grown tired? Why not upgrade? Installing a new faucet isn't difficult, so long as it fits your current sink. That said, in a single weekend you could replace both! Even easier is to elevate the hardware on your cabinets. With a screwdriver and a little effort, you can switch up the color, material and style of your kitchen's knobs and pulls.
Replacing lighting fixtures is also a pretty easy, DIY job. Just remember to turn of the power in your breaker box first – getting electrocuted is a good way to ruin a weekend.
Beautify Interior Molding
Transform your plain walls into subtle works of art with some decorative molding. Trim come in both narrow and wide strips, and you can use them however you desire. If you're unsure, the standard picture frame effect – may be a good place to begin!
Installing and even replacing interior molding is surprisingly inexpensive and simple. Here's a helpful video tutorial to get you started! The sky's the limit – just make sure your new trim complements your home's architecture.
Liven Up the Walls
Your home's blank canvas offers so many options for a weekend project that's creative and impactful. Consider any of these DIY options:
Paint a room a different color

Paint a statement wall or the ceiling of a room

Add wallpaper to a room

Use peel-and-stick wall decals to help decorate a wall

Hang up new art or even create a gallery wall
If opting to paint your walls, make sure you properly tape around windows and sills and anything else you don't want to get paint on. Also, putting tarp or plastic down before beginning is a much better option than wishing you had.
Install New Medicine Cabinets
Past your own reflection, every morning and evening you may be staring into the mirror or cluttered shelving of a tired, old medicine cabinet. Lucky for you, replacing them is a snap! Few tools and absolutely no expertise is required to do so.
The hardest part will be choosing the right fixture, as you'll find hundreds online and nearly as many at your friendly neighborhood Home Depot or Lowe's. The rest of the steps are easy, as illustrated by DIY Network. A note of caution: Your bathroom fixtures might look old by comparison once you're done. So choose a simple design, or find another weekend to upgrade those!
Retile a Floor
Since we're revamping the entire bathroom now, let's not ignore the floor. Decades ago, tile replacement would have required professional help. Today, you can install them yourself for relatively cheap!
Pick patterns and colors that both complement your cabinetry and fixtures, and that you won't grow tired of looking at in a week. Research your options – with peel and stick, modular locking tiles, and other easy-to-use products, this could be a relatively painless upgrade!
Quick Home Improvement Projects a Professional Can Get Done in a Weekend
Build an Outdoor Fireplace
Fire pits are good for making s'mores, but to truly add value to your outdoor living space, a luxurious fireplace is more your speed. Imagine sitting in chaises around your very own stacked-stone outdoor fireplace on a cool evening - with a bottle of wine post-dinner, cooked on the grill.
There's a lot that goes into the creation of an outdoor fireplace to make it beautiful; determining the design, landscaping and installing the foundation, laying concrete and stone, etc. It will take more than a weekend to find the right contractor and agree on cost, design, and materials. Not to mention, your township may require licensing and permits for the build. But depending on the size of the team, the actual project can be started and finished in a relatively short amount of time – and the result will make a world of difference!
Install an Outdoor Playset
Having trouble getting your kids to unplug and go outside? It may be easier if you give them a reason! Just be warned: A cool playset may attract the whole neighborhood to your yard.
There are a lot of options for outdoor playsets, from a simple wooden swing, to elaborate jungle gyms with stairs, slides, and other exciting features. There's plenty of work and prep involved for the average parent, but a swing set installer will have the process down pat.
Level Up Interior Doors
Heading back inside… one part of the house we don't often think about are interior doors. Usually plain, outdated and worn, the bar is easy to raise in a single weekend! How about installing:
Folding doors in the laundry or pantry

A rustic, sliding barn door for the guest bath

Bypass doors for the coat closet

Attractive, glass paned French doors for the living room or master bedroom
Beyond looking great, you might select doors that are a more energy efficient option. If you're outfitting more than one door frame at a time, you may prefer to pay for the convenience of professional drop-off and installation. It'll go much quicker that way!
Make Kitchen Cabinets New
There are really two ways to do this. First, you can rip out all your old cabinets, buy new or have new ones custom built and installed. Depending on the size of your kitchen, number of cabinets, and more, this could require only one- or two-days' effort.
The other option is you can strip and stain your old cabinets, making them look nice and new. Stripping and staining may appear a more DIY-friendly option, but don't discount the need for skills and a whole lot of patience – stripping can be a slow, tedious process with many steps. If you're unfamiliar with the process, it's better to hire help so that your home project is done quickly and looks superb!
Design A Backyard Food Forest
A food forest combines landscape architecture with permaculture principles. And it allows for a self-sustaining system of food production that requires human interaction mostly, and only, during harvesting. Talk about a project that allows you to reap the rewards!
However easy it is to maintain a backyard food forest, setting one up isn't. The designer must have a solid grasp on what grows well in your area, how to layer the vegetation, and manage exposure to sunlight, for starters. Many a grower's first attempts are foiled by Mother Nature – so if you'd like it your food forest set up correctly the first time, you'll want to hire an expert.
Get Greener
If you're anything like us, you love saving money. And the best way to do that, as it pertains to home improvement projects, is by making your home more energy efficient. You could start with a few DIY projects, like replacing your old thermostat with a newer digital model; unplugging devices when not in use; or switching out those incandescent lightbulbs.
Beyond that, there are plenty of home improvement projects a professional can tackle to cut down on wasteful spending and energy consumption. How about upgrading your AC or heating? Or installing a solar energy system? You'll almost certainly benefit by replacing your windows with more energy-efficient options. There are plenty of ways to do your part!
If you have some big home improvement projects in mind but are concerned about the cost, why not look at Ygrene's home improvement financing options? We make it easy and affordable. Whether you want to get your home improvement project started today or months from now, it's not too early to see if you qualify for the PACE program.