7 Bathroom Upgrades That Are Worth the Money
By
Ygrene
on July 15, 2020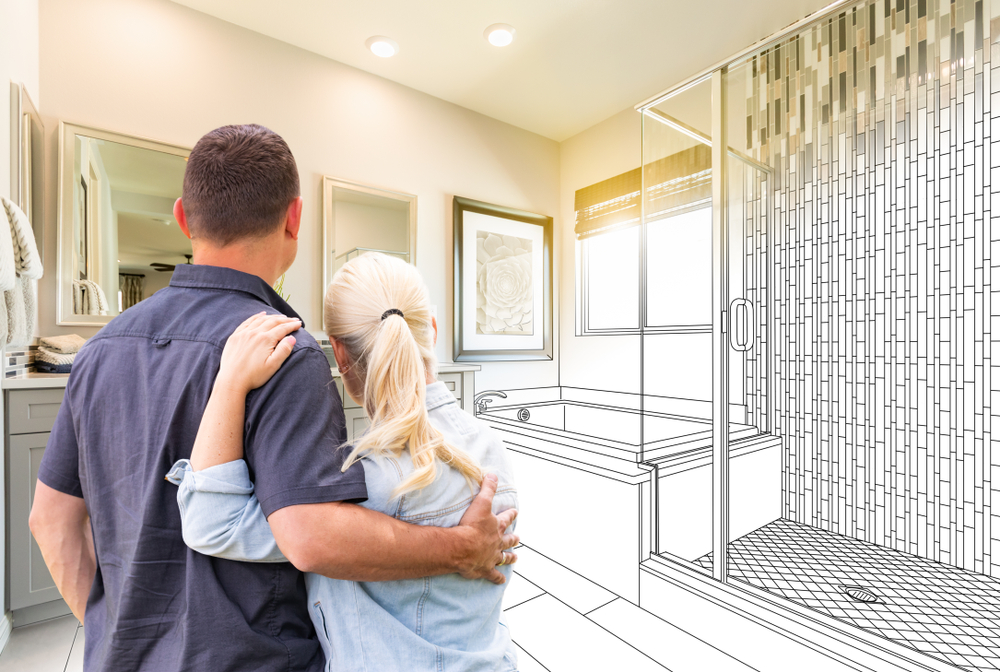 The bathroom is one of the home's most frequently used yet underappreciated spaces. It's also one of the easiest to remodel if you're looking to increase the overall value of your property. Think of your bathroom as your very own in-home spa—everything about this sacred space should exude luxury, comfort, and relaxation. Whether it's winding down with a nighttime bath or waking up with a morning face wash, the bathroom serves as your home's hub of hygiene. Is your current bathroom serving you well?
Striking a balance between a bathroom that is aesthetically pleasing but is also fully-functional is simpler than you think If you've grown tired of the current state of your bathroom, we've got 7 upgrade solutions, to help you increase the resale value of your home or simply create a more pleasant space. 
1. Update the bathroom fixtures
Although they may seem like small details, outdated fixtures can make your bathroom look aged, start your bathroom remodel with these. Fortunately, this update is affordable, simple, and can make a noticeable impact. The showerhead and sink faucets are easy to replace without professional installation and are the most affordable to buy outright. If you're looking for larger, more notable bathroom upgrade changes, you may consider replacing the tub or the sink—though these will likely require professional help to complete. 2. Install a medicine cabinet
2. Install a medicine cabinet
Creating storage space in a bathroom can be challenging, especially if your home bathroom is small. The vast majority of household bathrooms are home to minimal interior decor, meaning the toilet, vanity, shower, and small cabinets are usually the only objects crowding the space. If you're looking for a clever way to increase your bathroom's storage capacity without taking additional space, installing a wall-mounted medicine cabinet is a smart solution.
A medicine cabinet can make all of the clutter living on your vanity countertop disappear in an instant. Upgrading to a medicine cabinet with built-in shelves can create even more space for all of your toiletries. For added visual appeal, you may consider installing a recessed medicine cabinet that fits seamlessly into your bathroom wall. Carving out the space to accommodate a recessed cabinet is more challenging, so DIY-ers, consider your expert options before hacking away into your wall.
3. Replace the toilet
If your bathroom throne has become a royal eyesore, it may be about time to trade it in for a shiny new one. The face of the modern toilet has evolved far beyond the classic porcelain round-bowl architecture. Today's toilets come in a variety of shapes, sizes, and styles that are capable of doing far more than mere flushing. You'll be surprised by the options:
Toilet types:
Two-piece: When you imagine a traditional toilet, you likely imagine a two-piece. Two-piece toilets are the most common type of toilet in the U.S. and feature a separate tank and bowl. Because they are the more popular option, they tend to come with more affordable price tags, too. 
One-piece: One-piece toilets are the more modern toilet option that eliminates the seam between the tank and the bowl. While they serve the same exact purpose as their two-piece siblings, one-piece toilets are easier to clean and simpler to install. They are also the sleeker, more stylish choice as they tend to take up less space.
 
Flush types:
Dual-flush: Looking for a smart, water-efficient upgrade? Dual-flush toilets encourage eco-conscious flushing by handling waste differently. They feature two flush options—one for liquid waste and another for solid waste.
Gravity-fed: These toilets are dependent on the force of gravity to transfer water from the toilet tank into the bowl. This motion then generates a siphon that sucks waste down into the connected sewer line.
Pressure-assisted: When pressure-assisted tanks fill with water, air pressure builds up and is eventually released when flushed. The force of this pressure creates a blast of water that aids in evacuating waste from the bowl.
 
Depending on your budget and preference, replacing your toilet may be a minor upgrade or a massive one. No matter which type you choose, a new toilet is a great place to start with your bathroom remodel.
4. Update your ventilation system
Ventilation systems are incredibly common to find in modern homes, but older homes may not be equipped with any form of air circulation. This can lead to excessive moisture buildup, which eventually results in mold and mildew growth. Bring your bathroom into the 21st century by installing a new or updated ventilation system that can clear a steamy mirror or wick away moisture from the walls in an instant. With a properly functioning circulation system in your remodeled bathroom, your worries of mold or mildew buildup will evaporate, too.
5. Go green with low-flow
When it comes to energy-efficient bathroom upgrades, there are a number of different ways you can integrate your eco-conscious decision-making into the remodeling process. Going green inside of your bathroom is made perfectly possible with low-flow plumbing fixtures.
According to the United States Environmental Protection Agency, the average showerhead uses 2.5 gallons of water per minute. Research completed by the Alliance for Water Efficiency found that the average American shower lasts 8.2 minutes long, meaning an average of 20.5 gallons of water are used for every shower requiring massive amounts of energy and CO2. Replacing your standard showerhead with a low-flow alternative may significantly reduce your water consumption and your carbon footprint.
Low-flow showerheads distribute water at a flow rate of fewer than 2.5 gallons per minute at a water pressure of about 80 pounds per square inch. While hunting for a new low-flow showerhead, be sure to keep an eye out for a WaterSense label certification to confirm your showerhead has passed the EPA's strict regulations.
Why stop there? Upgrade your bathroom to a low-flow toilet and low-flow faucets for good measure. These water-saving fixtures may also be valuable money-savers.
6. Install additional storage solutions
Low on storage in your bathroom? It's easy to fall prey to accumulated clutter that seems to multiply over time One solution is to create additional cabinets or functional stylish storage solutions. Take your basic bathroom to the next level by adding smart storage solutions that give a home to all of your bathroom accessories.
Consider installing the following storage options:
Over-the-toilet storage
Vanity drawers
Linen tower
Mounted wall shelves
Decorative ladder
Makeup organizers
Shower caddies
 
It's ultimately up to you whether you want to install open storage features where contents are in-sight or closed and out of sight—whichever option you decide on, having added storage is bound to make a world of difference.
7. Repaint or retile
While you've likely grown accustomed to the color and condition of your bathroom, if you decide to sell your home, a potential buyer will immediately notice cracked tile and an unsightly paint job. You want the atmosphere of your bathroom to be both welcoming and relaxing, so the visual stress of a dowdy aesthetic could be the single factor that turns a house hunter away. Ultimately, you want your bathroom to be a space they can visualize themselves waking up and winding down in—and sometimes the only way to achieve this is by overhauling the current paint or tile job.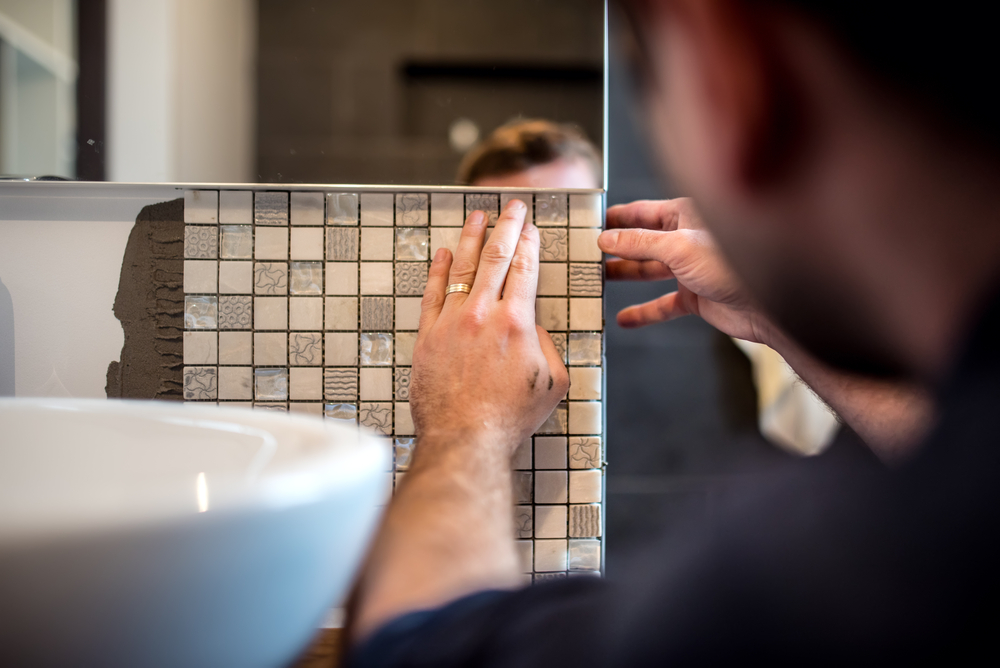 Opt for something neutral, easy on the eyes, and easily malleable to any style or interior decor preference. Buyers enjoy having a clean slate to work with, so something muted works to build personality rather than already boasting it.
For a paint job, consider the following colors:
Soft gray
Taupe
Bright white
Charcoal gray
Baby blue
Sage green
 
If you're working with a tiled bathroom, sprucing up the walls and backsplashes may require a thorough cleaning or a complete replacement. This, of course, depends on your desired outcome. If the current tile decorating your bathroom is outdated, it may be a worthwhile investment to do away with the old and welcome the new.
Before choosing the perfect tile for your bathroom, consider the following aspects to ensure you pick the finest type: 
The anticipated wear and tear in your bathroom
The architectural aesthetic theme of your house
Color versatility
 
Whether you choose ceramic, terracotta, marble, granite, or limestone, make sure your decision is one that adds to the overall feng shui of your dream bathroom.
Conclusion
Embarking on a bathroom renovation is an exciting adventure, whether you're looking to increase comfort levels or increase the overall value of your home. No matter the size of your budget, you can make each of these 7 bathroom upgrades work for you and your home. Armed with the right knowledge and creative expertise, you're just steps away from creating the bathroom of your dreams!