8 Types of Storm Shutters to Protect Your Home
By
Ygrene
on August 23, 2019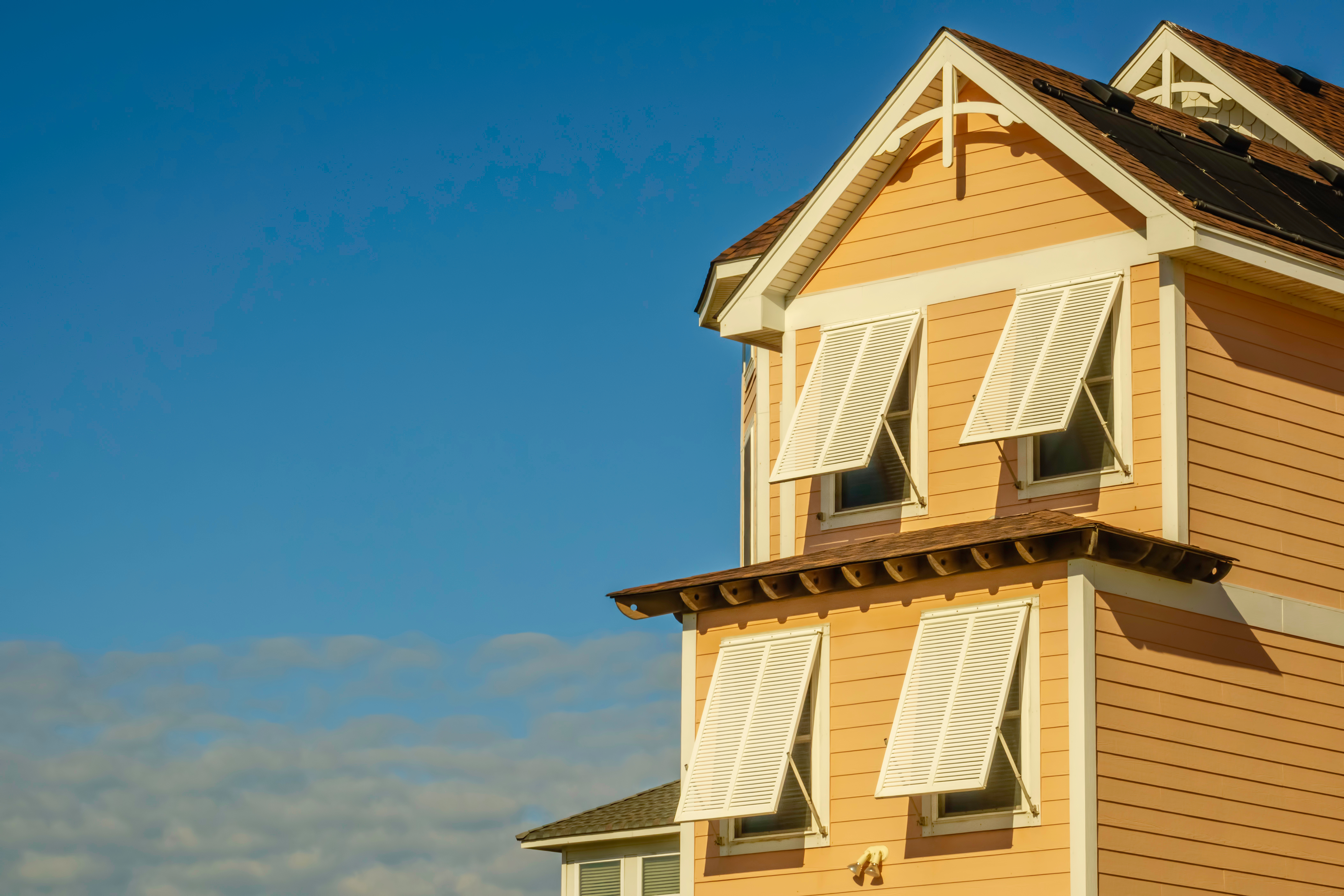 Is your home ready for the onslaught of inclement weather the storm season brings each year? Your doors and windows are particularly vulnerable to the forces of wind, debris, and precipitation. Adequate window and door protection in the form of storm windows or hurricane shutters is vital for keeping your family and your home safe.
According to statistics compiled by the National Hurricane Center (NHC), around 36 hurricanes have struck the US from 1995 to 2017. Of those storm systems, 13 were considered major hurricanes of Category 3 or above. If you live in a hurricane zone, it's important that you're prepared. Do you know where you need to evacuate? Do you have an emergency store of food and water? Is your home protected?
These are just a few of the questions you should answer with a resounding, "Yes." Hurricanes are a serious weather event that leaves devastation in its wake. The Congressional Budget Office (CBO) reports that hurricanes cause an average of $28 billion of damage per year. Low-lying, coastal areas like Florida or Louisiana are the most prone to these destructive storm systems and will continue to be the most vulnerable in the future.
It's important to remember that you have options available to you so you can protect your home and help limit the damage that may occur when a hurricane strikes. You don't want to end up making last-minute changes to your house in the face of an oncoming storm.
By planning early, you can give yourself adequate time to prep your house. One method to ready your property for storms is to outfit your windows with hurricane shutters, which are one of the best ways to prevent home damage and limit the danger of flying glass during a storm. Below, we will go in-depth into the different types of hurricane shutters and storm windows you can leverage to better shield your home.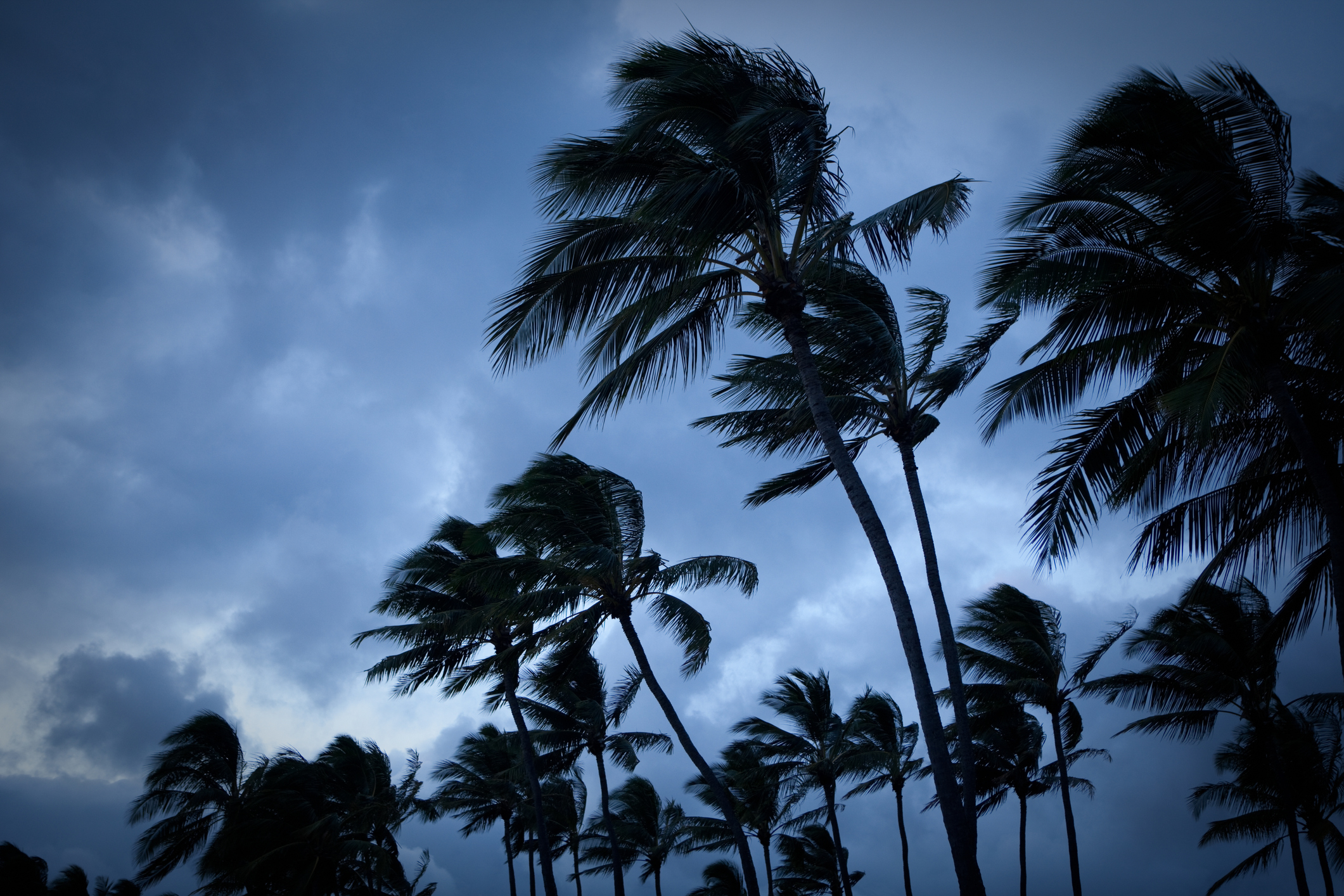 What are Hurricane Shutters?
Hurricane or storm shutters are built specifically to help guard your windows against things like flying debris, wind, rain, hail, and other forces associated with a tropical storm. They can be made from a variety of materials and be either temporary or permanent fixtures of your home.
There are several different hurricane shutter types you can invest in. We've compiled a helpful guide to hurricane shutters for you to explore. You can also navigate directly to the window protection you'd like to learn more about or browse the entire article for a comprehensive explanation.
Types of Hurricane Shutters
Hurricane season for the Atlantic area traditionally spans from June to November. This year, the first tropical system formed on May 20th so it pays to be prepared beforehand. We'll dive into the different types below so you can discover which kind is right for your property to get adequate hurricane protection.
1. Automatic Roll-Down Hurricane Shutters
Comprised of metal or polycarbonate (a tough, durable type of plastic), roll-down shutters attach above the window and conveniently hide away into a box when not in operation. Depending on the specific style you choose, they can be lowered by hand or automatically with a push-button mechanism. They lock in place to help protect your home from the forces and dangers of storms and hurricanes.
Pros
One of the best ways to protect your home
Can be installed by just one person
Acts as a barrier against theft
Permanently secured to the window so you don't have to worry about separate storage
Cons
Can be an expensive option
Automatic roll-down shutters need a battery backup so the shutters can still be operated during a power outage
Automatic roll-down hurricane shutters cost estimate: $20-$30 per square foot*
2. Accordion Hurricane Shutters
These storm shutters are either one or two-piece configurations that are stored alongside the windows or doors when not in operation. When you need them, they unfurl like an accordion to shield your windows during a storm. Typically, you'll see accordion hurricane shutters made out of the same materials as roll-down models, polycarbonate or metal.
Pros
Permanently connected beside the windows so you don't need extra storage for them
Can be installed by just one person
Some models can be locked with a key
Cons
May be too cumbersome for some house styles

For example, traditional Victorian-style houses or ranch houses

Extra parts are vulnerable to breaking
Accordion hurricane shutters cost estimate: $15-$25 per square foot*
3. Bahama Hurricane Shutters
This one-piece louvered shutter is affixed above your windows. A louvered shutter just means it has horizontal slats to keep out rain and glare from direct light. They prop open, offering shade but when closed, they offer serious protection against storms.
These shutters are typically made from aluminum but can also be made from composite wood or fiberglass.
Pros
Attached permanently to your house
Can be installed by one person
Gives you shade and privacy even when open
Cons
Traditionally weaker than other shutters, some models do protect well

This is dependent on the material you choose, for example, metal models may hold up better

May block out too much light
Can't be used to also protect doors
Bahama hurricane shutters cost estimate: $15-$25 per square foot*
4. Colonial Hurricane Shutters
A favorite among the design-minded, colonial hurricane shutters offer homeowners an attractive option to protect their home. This two-piece louvered shutter attaches to the wall beside each window and folds together to shield the window.
Similar to Bahama shutters, these can be made of wood, metal, or fiberglass.
Pros
Permanently attached beside the windows and doesn't need any storage space
Can be set up by just one person
An aesthetically-pleasing option that fits most housing styles
Cons
Some types of colonial shutters require extra bracing like a storm bar to keep them in place
Can take a long time to install compared to other types of shutters
Can't be used to protect the doors, must be combined with another shutter system
Higher cost compared to other options
Colonial hurricane shutters cost estimate: $200-$500 per window*
5. Storm Panel Hurricane Shutters
Comprised of either steel or aluminum, these storm shutters attach to the walls around windows and doors on bolts or tracks. Storm panels are grooved and each piece overlaps the next to bolster overall strength.
There are a variety of storm shutters to choose from including:
Bolts and tracks: The first type of storm panel uses bolts and tracks together. The top of the panel is placed into a track located above the window and the base of the panel is fastened to bolts permanently affixed under the window.
C-shaped tracks: This second kind of storm panel utilizes a series of C-shaped tracks both below and above the windows and doors. Bolts slide into the tracks from either side and need to be aligned by hand with the holes on the panes.
Permanent bolts: The third style of storm panel shutters feature bolts permanently housed in the wall alongside the windows and doors. The bolts can either be loosened or tightened.
The main drawback with storm panels is that homeowners don't inspect them properly during the home-buying process only to find out later that panels are missing or are cut to the wrong size.
Pros
Cost-efficient option for a permanent shutter
You can remove them easily
Strong, provide protection from both doors and windows
Cons
Requires external storage
Difficult to install, usually requires more than one person to do it
Sometimes don't line up properly
Have sharp edges, making them more dangerous to handle
Storm panels hurricane shutters cost estimate: $7-$15 per panel*
Whatever precautionary hurricane shutter improvement you decide on, make sure you give yourself adequate time to install it.  You can also work with Ygrene's independent network of contractors to help with the installation.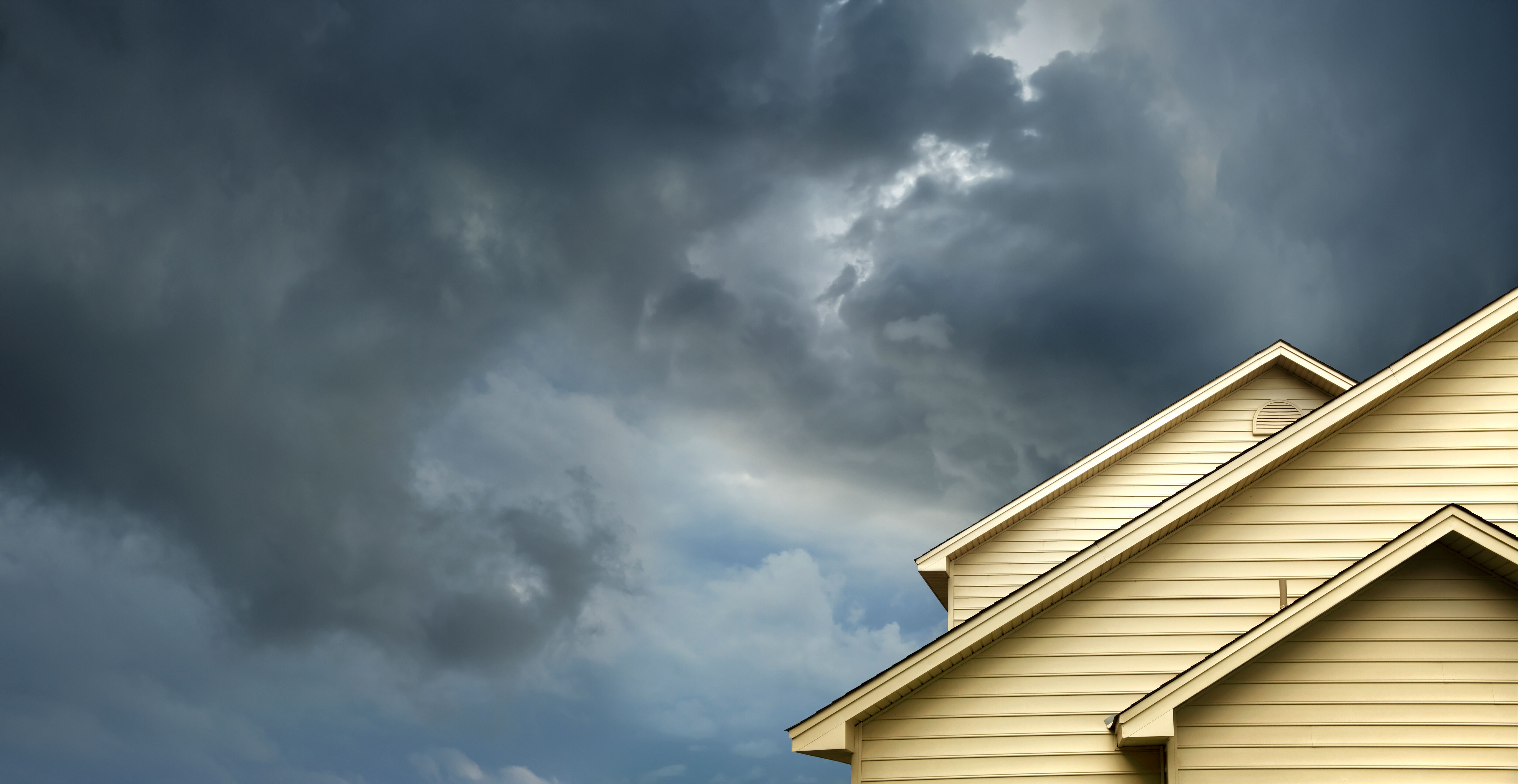 Alternatives to Hurricane Shutters
Besides installing storm shutters over your windows, you also have a few other window options to safeguard your home. As you might already know, your windows and doors are two of the most vulnerable areas of your house. If you'd like to explore alternatives to hurricane or storm shutters, you have a few options available to you.
6. High Tech Fabric Panels
One alternative you may want to consider is a set of high tech fabric panels that allow light to pass through but can withstand impact. Depending on the brand you choose, high tech fabric panels cost around $15 per square foot. There are also plastic planes that provide some basic protection and cost half as much as layered glass. Their main drawback is that they fog easily and may be vulnerable to scratches.
Pros
Economical price
Can be easily installed by one person
Cons
Vulnerable to scratches and therefore, not as long lasting
Can become fogged
High tech fabric panels cost estimate: About $15 per square foot*
7. Plywood Shutters
In a pinch, plywood shutters offer storm protection that may help keep your windows intact during inclement weather. The issue with this DIY solution is the necessity of cutting the plywood to the exact size and shape of your windows.
Pros
Cheap
Easy to install, one person can do it
Cons
Can be difficult to get the exact size you need
Need external storage when not in operation
Plywood hurricane shutters cost estimate: $1-$5 per square foot*
8. Impact Windows
Impact windows are made from layers of laminated glass that won't shatter into dangerous shards due to projectiles and high wind. They also offer benefits like a general reduction of noise pollution and can withstand up to Category 5 hurricane-force winds.
Pros
Allows light in without sacrificing protection
Help reduce noise pollution
Offer improved energy efficiency
Cons
Impact windows cost estimate: $300-$400 on average* per window
Hurricane Shutters vs Impact Windows
Compared to hurricane shutters, they're costly additions since they're designed to replace your primary windows rather than cover them. Ultimately, it's up to you what you choose, both offer benefits and drawbacks.
Takeaways
Preparing houses for hurricanes can be an intimidating prospect, especially when you're faced with multiple options. If you'd like to take precautions to protect your home from the dangers of hurricanes but are hesitant based on the upfront cost, you may want to consider Ygrene financing.
This form of financing helps homeowners just like you plan home improvements to protect against the weather and increase energy efficiency with alternative ways to finance storm upgrades. This allows you to invest in your most valuable asset, your home, so you can shield your property and family from the destructive forces of a storm. Contact us today to learn more and find out how Ygrene financing can help you and your family be ready for any storm.
* Prices will vary based on location, materials, labor costs, and contractor fees. Ygrene contractors can provide you with an estimate customized for your specific needs.