Easy Indoor Home Improvement Projects to Do This Winter
By
Ygrene
on February 4, 2022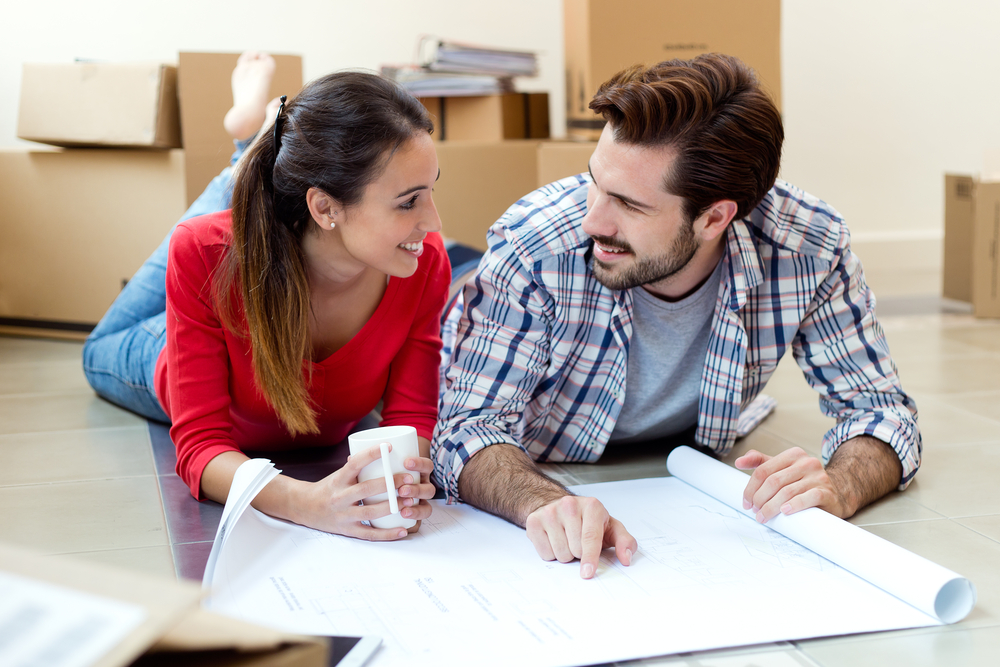 Most people think of home improvement as an activity best suited for spring or summer. There's not as much severe weather, the days are longer, and it's much more pleasant to be outside. While that's all true, that doesn't mean you can't fix up your home during the wintertime, too. There are plenty of indoor winter home projects, so you can beautify your home no matter the weather. Plus, if you plan on focusing on remodeling your deck or finally putting that new roof on your home during the summer, winter is the best time to get indoor home improvement projects out of the way. 
In this post, we'll walk you through five creative home improvement ideas for winter. You'll get a good idea of all the winter home projects you could have fun with while stuck inside on those long cold days.
Insulate Your Attic
Did you know that faulty attic insulation can seriously increase your heating bill? If your home is poorly insulated, there's a good chance you're paying much more than you should be. One of the easiest places for heat to escape is through your attic — after all, heat rises. Before the dead of winter sets in, one smart winter home improvement project is to insulate your attic. Luckily, this is an easy homeowner project that you can do yourself if you're handy.
Most attics have rafters running from wall to wall with a layer of plywood beneath. If you live in an older home, or your attic isn't finished, there's a good chance you won't find insulation between the rafters. Don't worry — there's a quick fix. Simply head down to your local hardware store and pick up a few bales of insulation batting (pro tip: reduce your carbon footprint by opting for recycled insulation). If you're unsure which type is right, a store attendant should be able to help.
Science Note: It's a good idea to purchase enough batting for two layers of insulation. Insulation is rated by something called an R-value, which is just a measure of how well the insulation stops heat from transferring. Adding another layer of insulation provides a higher R-value, which helps seal the heat inside your home.
Here are the 3 key steps to installing insulation in your attic:
Once you've purchased all the insulation you need, installation is actually quite easy.
Simply lay insulation down in the spaces between each rafter. 
Be sure to wear gloves, long sleeves and pants, and a dust mask, as there will likely be tons of dust and loose insulation batting in the air. 
Once you've laid the first layer of insulating down between each rafter, layer the second layer perpendicular to the first. That covers up the seams between the first layer and the wooden beam. 
Having a healthy layer of insulation between you and the cold outside is a great way to prep your home for the winter. However, that's not the only place where you can stand to save money by switching to energy-efficient heating. 
Seal Air Leaks
Similar to insulating your attic, sealing air leaks in your home is one of the best ways to stay cozy and warm through the winter. Air leaks are most likely to happen in places like windows, doors, and vents from the fireplace or stove. Properly sealing these leaks is one of the simplest ways to reduce your energy usage and keep heat in, making it an ideal winter home project. You could always hire a contractor to come and help with the job, but it's pretty simple to do yourself. Here are a few steps you can follow:
First, find the leak. You can do this with your hand if you can feel the cold air coming in, or you can light an incense stick and see which way the smoke moves as you move the stick around the door, window, or vent.
Once you've found the leak, assess its size and shape. For smaller holes that only require spot repair , ordinary caulk can be a great fix. Simply fill the area with caulk and add a fresh coat of paint over it once it's dried.
If you find that your door or window has a long unsealed portion along an entire edge, the repair is a bit more involved. Start by purchasing weather stripping from your local hardware store.
Measure the space of the window or door you want to insulate, then cut the weather stripping to match the size of that space.
Be sure that you tighten the hinges so that the door hangs true when you add the new stripping.
Most stripping is made from wood with a foam or rubber edge. Place that edge against the door so that the foam or rubber is pressed against the crack where the door shuts.
Nail the stripping to the door frame. It's a good idea to first nail it in lightly, then test that the door shuts properly. If it doesn't, adjust the position of the stripping. Once the door closes properly, nail the stripping in the rest of the way. 
You'll be surprised how this simple process can easily make your home warmer and the winter much more bearable! Before you rush to look up when it's time to replace your furnace, see if sealing leaks doesn't solve the problem first.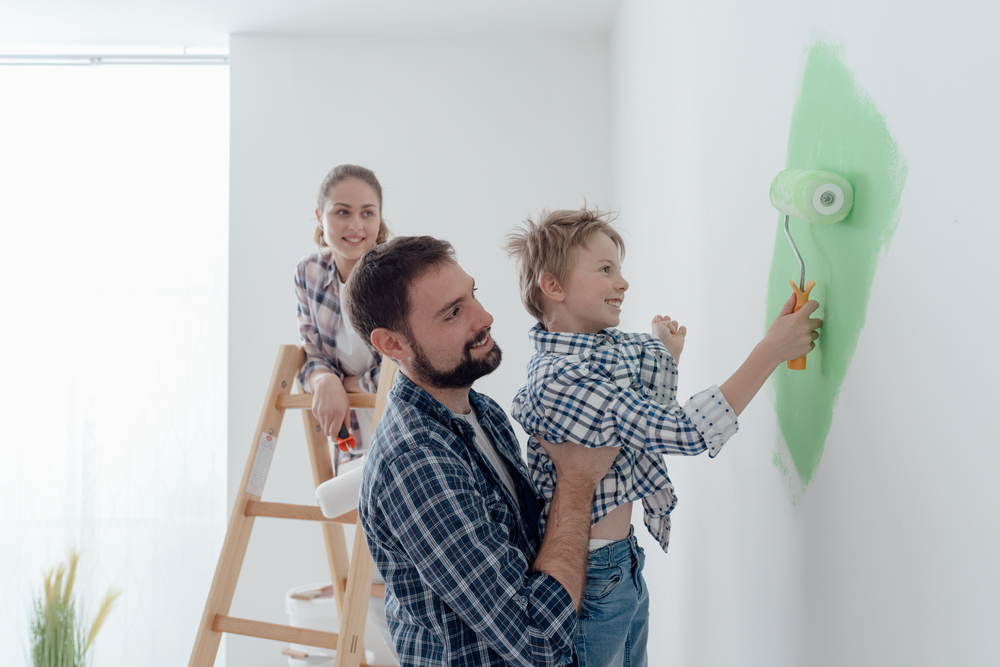 Redesign Your Living Room
Once you've finished up with the more pressing energy-saving renovations your place needs, it's a great time to focus on the fun stuff! Even in the coldest snowstorm, you can always renovate your living room. Plus, given that you'll be spending so much time indoors as the temperatures drop, you'll want your living room to be the ideal spot to spend lots of time. 
If you're fantasizing about a living room makeover, consider making some green changes to your space. Some home improvement ideas for winter you can try that will shrink your impact include:
Shop thrift stores and online resale markets for pre-owned furniture; shopping used reduces the amount of new furniture that needs to be made, and so reduces all the impact that happens when goods are produced.
If you do buy new, opt for sustainable materials like recycled polyester, faux leather instead of real leather, and sustainably sourced wood.
Switch out bulbs in your lamps for high-efficiency bulbs that reduce your electricity waste and help you save on your electric bill. 
Make use of natural light by rearranging furniture to allow maximum light in your space.
Check out the previous two sections in this article for tips on how to stop heat from escaping.
Once your living room space has been renovated, it's time to start thinking about the other spaces in your home that could use an upgrade. Luckily, there are still two more rooms that make for some of the best winter home improvement projects.
Renovate Your Bathroom 
Let's face it: we spend a lot of time in our bathrooms. From your morning routine to those long and luxurious showers you treat yourself to after a rough day at the office, the bathroom is your sanctuary. Luckily, it can be easily renovated during the colder months! Giving your bathroom a facelift can be pretty simple, and because that space is usually pretty small, little tweaks can make a huge difference — plus, it makes a great home improvement idea for winter!
First, pick out your design theme. Is your bathroom a Bahaman beach getaway, or a relaxing spa? Is it sleek and modern or quaint and farmhouse-chic? The dell on you — just be sure that once you've picked an aesthetic you stick to it. Shop around and find the right accessory pieces — like clocks, paintings, or other wall hangings, shelving units, and decorative elements that it takes to sell the look you're going for.
Eco-Friendly Tip: in order to reduce water waste, you can easily and inexpensively swap out your faucet and showerhead for lower volume options. Plenty of these fixtures come with high pressure, so you never feel the difference. If you've got the budget, replacing your toilet with a low GPF (gallons per flush) model can also seriously reduce wasted water. 
Upgrade Your Kitchen
Your kitchen is one of the most important entertaining spaces in your home. Whether you're prepping food for guests or entertaining with drinks as they sit around the kitchen island, your kitchen is pretty essential. This winter, why not spend your indoor time upgrading your kitchen? If you're curious about how you can make your kitchen the ideal entertaining space for your family and friends, here are some of our favorite tips:
If you've got linoleum floors, rip them out and replace them with tile or hardwood. If that's a bit out of budget, a vinyl wood alternative is often cheaper and has the same warm and inviting vibe.
Try out a backsplash along with counters with a chic and appealing material, like subway tile or decorative tiles.
Swap out old cabinet doors for savvy, well-designed new ones — it'll instantly boost your kitchen's style.
Upgrade old appliances for new ones that match your design aesthetic. 
A kitchen is also a place where you can radically reduce your impact. If you do decide to upgrade old appliances, pick high-efficiency options that reduce water and electricity waste. Slick modern LED lighting fixtures for energy efficiency will also lend your kitchen an environment-forward feel that you will love as much as the planet loves you. 
Wrapping Up
This winter, don't let the cold weather stop you from revamping your home. While you may have to wait for that spring thaw to get to work reroofing or finally putting those finishing touches on the porch project, there's plenty you can work on inside your home to make your space warm, inviting, and energy-efficient to the max. Try out one of these fun and eco-conscious home improvement ideas for winter and give your home some love this season!