Guide to Buying Replacement Storm Windows
By
Ygrene
on September 6, 2019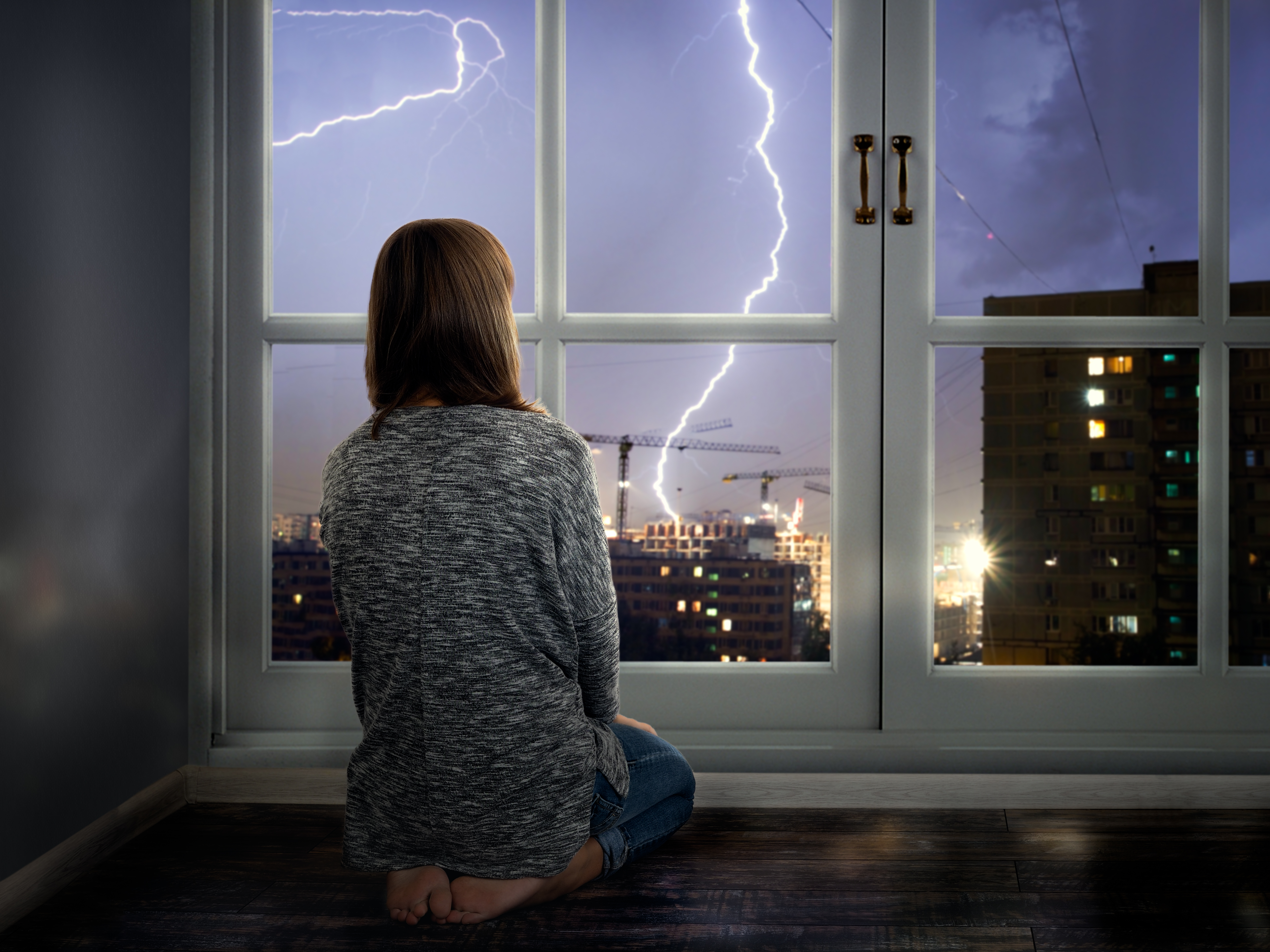 If you grew up in a region that experienced colder climates, it's likely that your storm windows signaled the changing of seasons. In the fall, when football weather came to stay, the storm windows went up. And in the spring, when the flowers made a colorful return, your storm windows came back down.
But did you know that your storm windows can easily be a permanent fixture in your home? They work equally well in cold and hot climates. Today's storm windows are extremely versatile and they're no longer just a winter accessory. In other words, these aren't your grandma's storm windows we're talking about.
Continue reading for our comprehensive guide to storm windows or navigate to the section you'd like to learn more about.
What Are Storm Windows?
Storm windows are a type of window that acts as an extra layer of insulation and storm protection from adverse weather conditions. They're mounted on either the outside or inside of your regular, primary windows. You can find many different kinds of storm windows but they're generally made of glass or durable plastic.
you'll see exterior storm windows which are simply placed on top of your existing windows but interior storm windows also exist. We'll dive into the different types of storm windows that are available in a later section.
What are the Benefits of Storm Windows?
There are numerous benefits to having storm windows on your house, including:
Increases energy efficiency: If you install storm windows, you'll have less outside air seeping its way into your home. In turn, this means your heating and cooling (HVAC) system will expend less power trying to maintain a comfortable indoor temperature.
Insulates: Storm windows help keep warm air inside during cold snaps and cool air inside during heat waves. This is because the added cushion of air between your normal windows and the storm windows makes it harder for air to pass through.
Reduces street noise: Neighborhoods can be loud places with barking dogs, construction, busy roads, and boisterous neighbors. With the addition of storm windows, however, you can cut down on noise pollution.
Quick installation: In general, it takes about two hours per window to install storm windows, so you don't have to worry about endless construction taking place in your house.
Protection for primary windows: Storm windows help keep your primary windows safe from physical damage due to dust, wind, and hail.
Cost-efficient: Replacement storm windows are cheaper than replacing your regular windows in most cases.
If you've decided that storm windows are a necessary home improvement for your property, the next step is to decide whether you want to embark on a DIY process to set them up yourself or hire a professional contractor.
Your Options for Installing Storm Windows
According to Improvenet.com, storm windows cost $164 to $287 per window, depending on the type and material. That's for the windows, their installation – which takes around two hours per window – and some additional supplies.
Before we get started with a step-by-step breakdown for purchase and installation, ask yourself these questions:
Do I have the skills to install my own windows?
Do I have the tools?
Do I have the time? (An especially important question if you're in the midst of hurricane season)
Which do I value more: my time or my money?
We'll discuss both options, as well as how to maintain your storm windows once they're set up.
Tips for Buying Storm Windows
Here are a few tips to keep in mind as you shop for either brand new storm windows or replacement storm windows:
Figure out your window type: When buying your new storm windows, the first consideration you'll want to make is what kind of windows you have at home. Are they single-hung, double-hung, or slider-windows?

Double-hung windows are windows where both sashes in the frame move up and down, while single-hung windows have a top sash that is fixed. Slider windows move from side to side and are typically used in window frames that are wider than they are tall. Knowing the types of window units you have will help you determine the best storm windows for your home.
Check for quality: Another important shopping consideration is the quality of the storm windows. You should check that the corner joints overlap for strength. These types of joints are stronger than mitered corners which have the potential to allow wind to blow through.
Look for adjustable ventilation and removable components: Good storm windows should have adjustable ventilation stops on the inside track. Vent stops restrict the upward movement of your bottom window sash so your home will be better protected against break-ins. For easy cleaning purposes, glass and screens should both be removable.
Choose models with pre-drilled holes: The frames of your storm windows should have pre-drilled holes for simple installation.
Add an extra buffer with weather-stripping: Weather-stripping is crucial because it provides you with a nearly impenetrable seal to ward off wind damage. Essentially, it fills in any open gaps or cracks where wind could get in and wreak havoc. Make sure the storm windows you choose have this feature.
Minimize UV rays with low E glass: If you're worried about energy efficiency, go for windows with low-emissive (low E) glass. This kind of treated glass features a very thin, unique coating that shields against infrared and UV rays. The coating found on these windows improves energy efficiency by maintaining your home's interior temperature. Instead of letting the cool air or heat escape, the coating points those temperatures back into your home. And the best part? These windows still allow natural light to flow through.
Protect your home with multi-point locks: Some models of storm windows are equipped with multi-point locks for theft protection.

Multi-point locks

offer homeowners a stronger lock system thanks to a combination of different locking mechanisms that may help reduce the risk of a break-in. They're also sturdier and hold up better against wear and tear than single-point locks.
Pick the right color: From a purely aesthetic standpoint, you may want to choose replacement storm windows that complement the style and color of the rest of your house.
Types of Storm Windows
There are many types of storm windows you'll have to decide between based on cost, your primary window type, and the most ideal material for your home.
Storm Window Frame Materials
Once you decide what kind of storm windows you need, any extra features you may want, and have examined those pesky corners, it's time to install—or find a professional to install them.
How to Install Your Own Storm Windows
If you're a hands-on type of person, it's possible to install your storm windows yourself. But if the steps below conjure any hesitation, remember that sometimes it pays to have the job done right - and there are plenty of solutions to help make the process affordable.
If you've decided to give it a go on your own, these steps will help ensure the best possible outcome. Tom Silva from This Old House recommends the following steps when installing exterior storm windows (which are the most common type):
Measure the inside width of your window at three locations with the window open: near the top of the frame, in the middle, and near the bottom
Choose the smallest dimension from those three measurements
Go outside and take a measurement of the height of the window
Repeat this process for all windows, as sizes may vary by a few inches
Choose the ideal storm windows for your home and order them
Scrape any peeling or chipping paint from both frame and trim
Drill small holes in window sill exterior that coincide with the cavities in your storm window where water can seep out; use a measuring tape for accuracy
Prime and paint the frame and trim
Caulk around the top and sides on the back of each storm window; don't caulk the bottom edge
Screw the top of the storm window to the frame
Close the bottom sash to position the window correctly, then screw the sides to the frame
Tap down the adjustable expander for a tight fit
Measuring your home's windows is a very important part of this process. Some may appear to be the same size, but it's always best to measure each and every one. A snug, tight fit will ensure you get the greatest benefit from your storm windows, so don't discount this step.
Tips for Maintaining Storm Windows
How long your storm windows last will depend on several factors: the quality of the storm windows, the harshness of your climate, and how well you maintain them. Although replacement storm windows are cheaper than regular windows, you'll save more money in the long run if you spend time maintaining them from the get-go.
Regular cleaning and upkeep are essential. Take special care of the channels and tracks that can become clogged with dirt and dust, or fall victim to corrosion and rust. If maintained properly, your storm windows can last for decades.
Replacing Your Storm Windows
Maintaining your storm windows will go a long way, lessening the frequency at which you need to replace any parts. But with wear and tear, eventually, you'll need to replace components. Some common replacement parts include latches, corners, slide bolts, and even the glass itself.
If you weren't up for installing the storm windows to begin with, know that fixing and replacing parts is an even more difficult process. In our experience, it's better to do it right and hire someone with all the tools and know-how at their disposal. However, the DIY pro should have no trouble finding replacement parts at their nearest big-box hardware store, and some helpful instructions on YouTube.
Storm windows have come a long way over the years. Gone are the days of stapling plastic sheeting to a rickety frame and calling it a storm window. And they work great for any climate that has temperature extremes, or even inclement weather. Plus storm window replacement costs are typically much cheaper to replace than your actual primary window panes.
Takeaways
Whether you're looking to protect windows from hurricanes, add additional theft protection to your home, or improve energy efficiency, storm windows can provide the perfect solution. If you're considering buying and installing storm windows but are concerned about the upfront cost, Ygrene may be able to help. As one of the largest providers of PACE financing, you can make home improvements that'll help you increase your quality of life and make your dream home a reality.
Contact us today to find out if you qualify, no credit check required.